Climate protection project
Efficient Cook Stoves save Habitat for the last of the Mountain Gorillas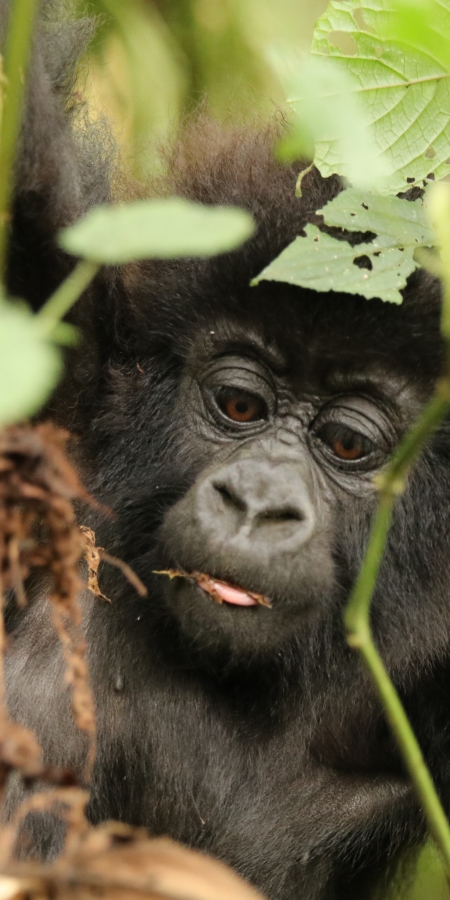 Less firewood consumption – that means habitat for animals, less deforestation, less greenhouse gases in the atmosphere, more time and money and improved health for women and girls in Rwanda! This is achieved through the subsidised sale of energy-efficient cookers to families around the Volcanoes National Park in north-west Rwanda.
Impact of the climate protection project
The project contributes to ten of the 17 Sustainable Development Goals (SGDs):
SDG 1: Households save an average of EUR 170.00 per year on firewood.
SDG 3: More than 25,600 people benefit from better health and higher quality of life, as smoke gases can lead to respiratory diseases.
SDG 4: Each day, a household saves one hour of time in which children can do homework, for example.
SDG 5: Women save one hour per day in firewood procurement, during which additional income can be generated.
SDG 7: 5135 efficient cookers were previously sold subsidised. Instead of 12 kg of wood per day, 4 kg are now needed.
SDG 8: Twelve local jobs have been created so far.
SDG 12: The cookers are made from local, recyclable materials.
SDG 13: Every year, 35,000 tonnes of CO2 are avoided.
SDG 15: So far, 18,000 tonnes of wood have been saved, saving over 90 ha of forest from deforestation and protecting the habitat of many endemic animal and plant species.
SDG 17: Cooperation with local businesses and NGOs creates local value and jobs.