Event Sent
Fascia fitness with swaveboard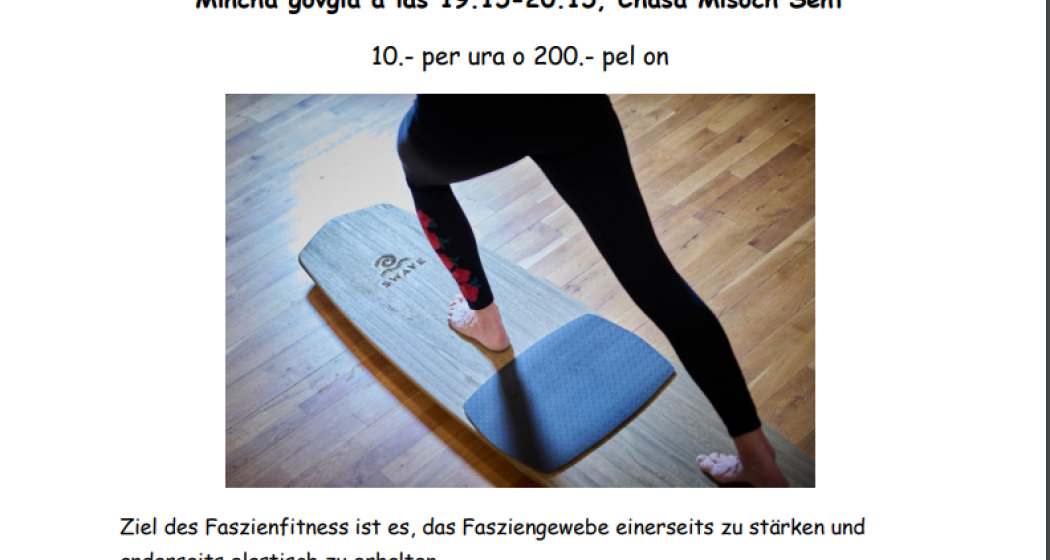 Fascia fitness. The aim of the training is to strengthen the tissue and keep it elastic. Chasa Misoc, CHF 10.00/lesson, 200.00/year. Info and note Martina Weiss, martina@kinesiologie-chleeblatt.ch
Description
Date
17.03.2022 to 28.12.2023 from 19:15 to 20:15 o'clock
on Thursday
Price
CHF 10.00/lesson or CHF 200.00/year.
Zeit
There is no training during the school holidays.
The aim of fascia fitness is to strengthen the fascia tissue on the one hand and to keep it elastic on the other. Trained fascia provides the body better with nutrients, keeps the body supple and increases the elasticity in the connective tissue.
The training brings momentum and verve into everyday life and the body becomes fresher, more vital and more resilient. Targeted, mindful exercises lead to strength, flexibility and agility.
Please bring a yoga mat.