Fuorcla Val Sassa: The longest block glacier in Switzerland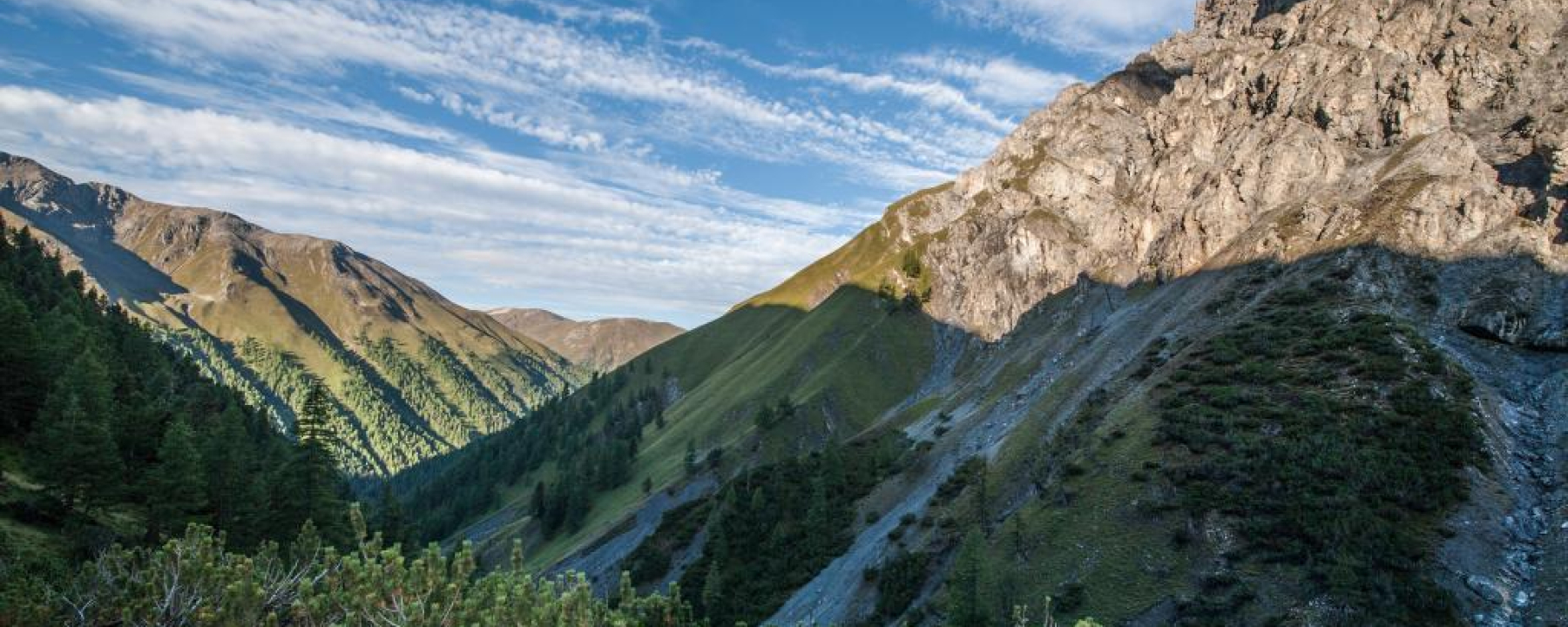 Show all 4 images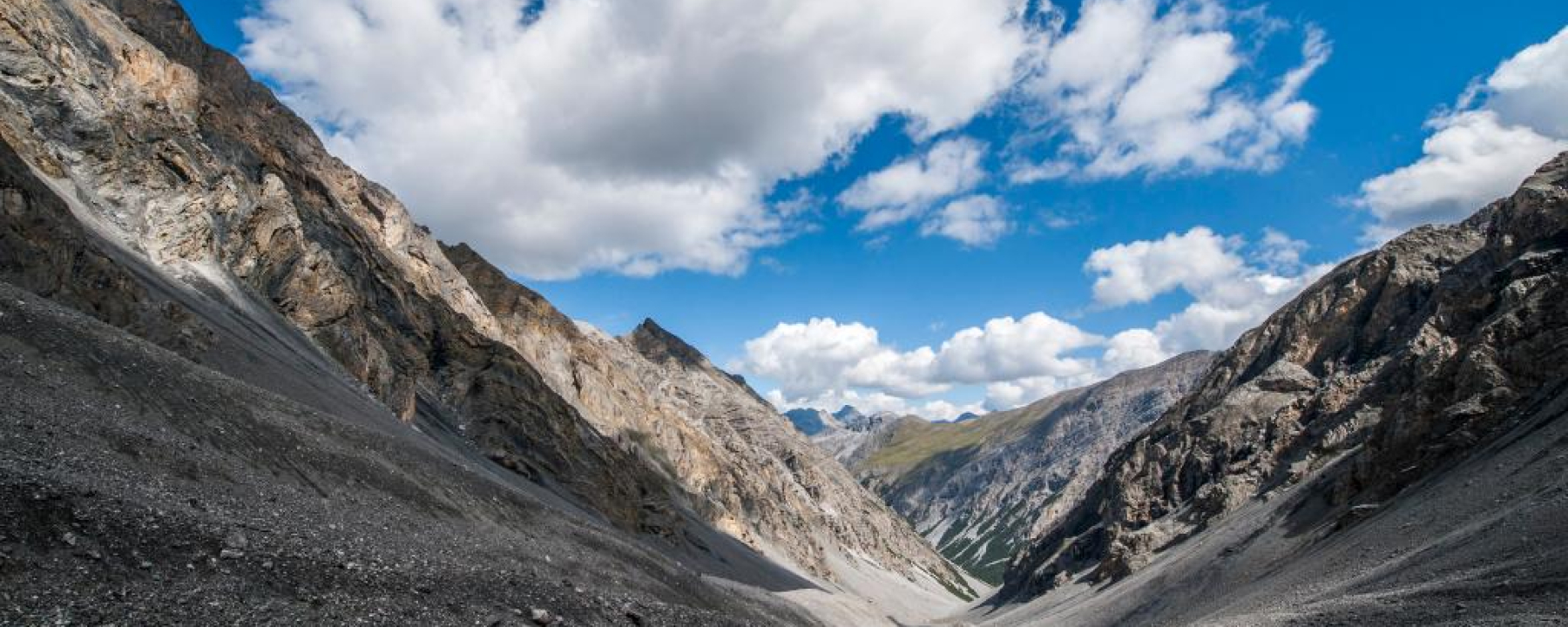 Challenging alpine hike through the Val Müschauns over the Fuorcla Val Sassa. The destination of the hike is the wildly romantic Chamanna Cluozza, which offers food and accommodation after the tour.
---
Start
Bahnhof S-chanf (1662 m ü.M.)
Destination
Bahnhof Zernez (1471 m ü.M.)
Coordinates
46.611826, 9.981648
Description
The hike leads from the scenic, green Val Müschauns with good observation possibilities for ibex over a pass crossing at 2857 m above sea level.M with magnificent views into the Bernina massif.  in the barren and lonely Val Sassa, whose name "Valley of Stones" does not come by chance. Partly huge piles of rubble line the path and in the upper areas of the Val Sassa there are often still snowfields in summer. The path leads down to the Cluozza Valley via the Block Glacier and on to the hut of the same name. The Chamanna Cluozza was built in the years of the national park as a parking attendant and today serves as accommodation for hikers. From the Chamanna Cluozza the trail continues (usually after an overnight stay) to Zernez.
Note: Dogs are not allowed in the Swiss National Park, even on a leash. For more information and all protections, see nationalpark.ch/schutzbestimmungen.
Geheimtipp
Nach einer Übernachtung in der Chamanna Cluozza empfiehlt sich der Weiterweg über den Murtersattel (siehe Route «Murter») zum Parkplatz 3 an der Ofenpassstrasse.
Sicherheitshinweis
Steil und anstrengend, weiss-blau-weiss (alpine Route). Der Abstieg von der Fuorcla Val Sassa verläuft in steilem Schutt, der Weg ist nur teilweise erkennbar.
Notruf:
144   Notruf, Erste Hilfe   
1414 Bergrettung REGA
112   Internationaler Notruf
Directions
Vom Bahnhof S-chanf (1662 m ü.M.) via Parkplatz Prasüras (1668 m ü.M.) im Talgrund des Val Trupchuns bis zur Alp Purcher. Nach einer Holzbrücke folgt die Abzweigung Richtung Norden, weg vom Talweg im Val Trupchun, hinein in das imposante Val Müschauns. Durch Lärchen-Arven-Föhren-
Wald und später durch Legföhrenbestände aufwärts. Ab der Bachquerung (knapp 2100 m ü.M.) wird der Weg steiler, und zwischen 2300 und 2500 m ü.M. ziemlich rau. Diese Strecke ist verantwortlich für die Einteilung der Route in den Schwierigkeitsgrad weiss-blau-weiss. Der Aufstieg macht an einzelnen Stellen den Einsatz der Hände notwendig. Bei einer Schlüsselstelle gibt ein fix installiertes Seil zusätzlichen Halt. Ab 2600 m ü.M. öffnet sich der Blick in den Talkessel des Val Müschauns. Der Weg führt weiter durch Schuttlehnen hinauf bis zur Fuorcla Val Sassa (2857 m ü.M.). Gleich unterhalb der Fuorcla befindet sich mit dem Lai da Müschauns eines der wenigen stehenden Gewässer im Nationalpark. Auf der anderen Seite der Fuorcla taucht der nicht immer klar erkennbare Weg ein in das Tal der Steine, das Val Sassa. Bald führt er über eine imposante geologische Erscheinung, den längsten Blockgletscher der Schweiz. Beim kleinen Boden von Plaun Sassa treffen das Val Sassa und das Val dal Diavel (Tal des Teufels) zusammen. Die Route mündet ein in das Val Cluozza und folgt dem Bach bis zu einer Brücke (1835 m ü.M.). Danach kurzer Gegenanstieg bis zur Chamanna Cluozza. Es empfiehlt sich, hier zu übernachten – Voranmeldung dringend erforderlich (www.cluozza.ch / Tel.  +41 (0)81 856 12 35). Ab der Chamanna Cluozza führt der Weg in weiteren 2:30h Marschzeit nach Zernez (siehe Route "Chamanna Cluozza").
Responsible for this content Tourismus Engadin Scuol Samnaun Val Müstair AG.
This content has been translated automatically.

This website uses technology and content from the Outdooractive platform.