On the trail of mineral water
miraculaua Scuol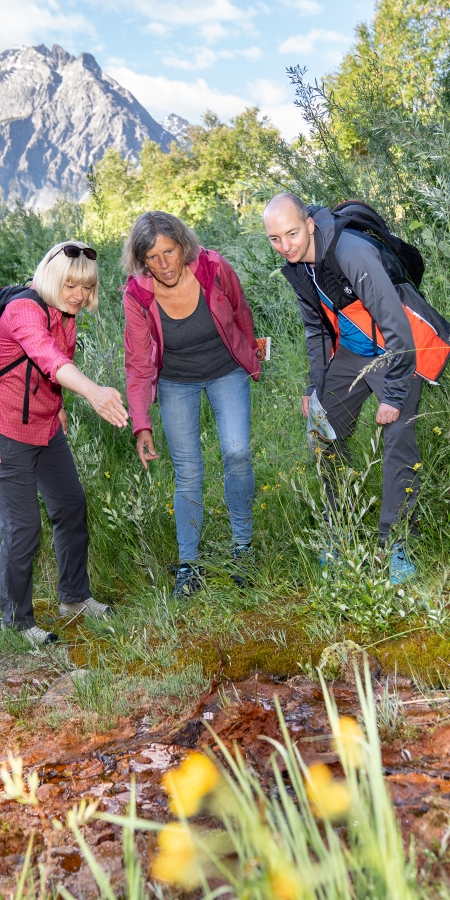 More than 20 natural mineral springs are gushing in Scuol and the surrounding area, and the place was already world-famous for cures more than 100 years ago. During two days, exciting experiences await you, such as a mineral spring hike and mineral water tasting on the topic of «miraculaua», the miracle water of Scuol.
The benefits
Mineral water package
Included benefits
Guided mineral spring hike
Mineral water tasting
miraculaua bottle
Background information on the mineral water and the springs
Possible additional services (against surcharge)
Entry to the Bogn Engiadina baths and sauna facilities (directly on site)
Dates 2021: 02-03 July, 21-22 July, 11-12 August, 20-21 August, 15-16 September, 01-02 October  
Price: CHF 89.00 per person
Day 1 – Morning
Mineral spring hike
In the morning, Sabina Streiter takes you on the trail of the mineral waters around Scuol. This three-hour walk takes you past fountains and springs as well as contemporary witnesses of former spa tourism such as the drinking hall Büvetta Tarasp. You will gain an insight into the origins and characteristics of mineral water and its great importance for the Lower Engadine. You can try the natural mineral water at the village fountains and mineral springs. Can you taste the difference?
Day 1 – Afternoon
Mineral water experiences as desired
The afternoon is free and you have the choice. How about finding your personal mineral spring or bathing in mineral water?
In the water consultation with Sabina Streiter, you will discover your personal mineral spring for more vitality and well-being with the support of a kinesiological balance. During an individual hike to «your» spring, you can fill the miraculaua bottle you received in the morning with the water.
> To the online booking of the water consultation
Pure relaxation is provided by a bath in pure mineral water at Bogn Engiadina in Scuol. Enjoy the extensive bathing and sauna area and if you want something more exclusive, book a tour of the Roman-Irish bath.
> To the online reservation of the Roman-Irish baths
(These services are not included in the offer).
Day 2 – Morning
Mineral water tasting
On the second morning, the focus is on «tasting». During a degustation with water sommelier Claudia Vontobel, you can taste a wide variety of Graubünden mineral waters and try to identify the differences. Afterwards there will be a small aperitif where you can discuss the different tastes further.
Day 2 – Afternoon
Which mineral water experience are you still missing?
How about a hike on one of our three mineral water trails or to your personal spring? If you couldn't manage everything on the first day, you can again choose from the water consultation or a visit to the Bogn Engiadina.