Ramosch – Tulai – Vnà (RW)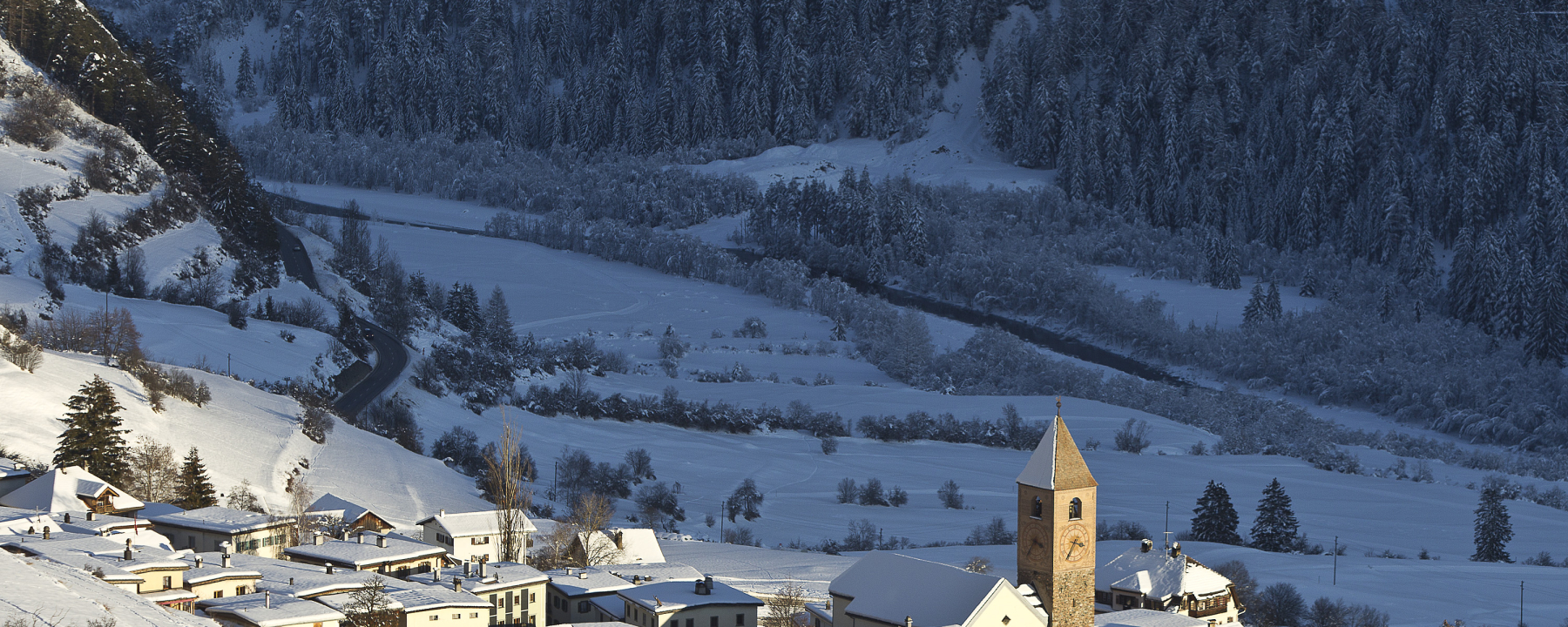 Show all 6 images
On the sunny slopes high above the Inn valley the snowshoe route, which is fairly steep at the outset, leads through open country from Ramosch to Vna, and then back again through woodland.
---
Coordinates
46.835553, 10.380683
Description
The snowshoe tour starts in Ramosch, which is characterized by an old Roman road. It is one of the driest places in Switzerland and is the warmest village in the Engadine in the summer. Due to the mild climate and good soil conditions, Ramosch and the village above it, Vnà, were once considered to be the granary of the Engadine. The terraced slopes of Ramosch bear witness to earlier field irrigation.From Ramosch the route follows the aforementioned terraces, heading eastwards up the slope. Along the way there is an imposing mountain panorama stretching from Val d'Assa via Val d'Uina as far as the Sesvenna group to the south of Scuol. Passing through woodland, our route brings you to the sunny village of Vnà where you can take in the magnificent view and enjoy a well-earned rest after the steep climb. The local museum and the «dicziunari rumantsch» – a walkable dictionary – make a tour of the village a memorable experience. Written on small plaques on the houses are phrases in four languages (Romansh, Italian, German, English) that provide interesting comparisons.From here the snowshoe tour continues direct back to Ramosch. Clearly visible along the way is the ruined Tschanuff castle, which is steeped in legend. Besides the Tarasp castle, it was for a long time the most important fortification in the Lower Engadine. Both the castle and the Protestant church of St Florinus are Swiss heritage sites of national importance. The late-Gothic church can seat 450 people, making it the second largest church in the county after St Martin's church in Chur.
Geheimtipp
"Begehbares Wörterbuch" Vnà als Dorfrundgang
2. grösste reformierte Florinuskirche in Ramosch
Sicherheitshinweis
Schneeschuhtouren werden auf eigene Verantwortung unternommen. Die Route ist nicht markiert. Wir empfehlen die Konsultation des Lawinenberichtes (www.slf.ch) vor Antritt der Tour.
Achtung: Wildruhezonen respektieren. 
Die Tour wurde bei günstigen Witterungsverhältnissen bewertet, die aktuellen Schnee- und Witterungsverhältnisse müssen vor dem Start beachtet werden.  
Notruf:
144    Notruf, Erste Hilfe
1414 Bergrettung REGA
112    Internationaler Notruf
Directions
Ab Ramosch zuerst sehr steil über die Abkürzung - oder über die Fahrstrasse bis zur zweiten Linkskurve nach Vnà - hinauf bis zum Einstieg.
Ab hier durch den Wald gleichmässig steigend Richtung Erms. 
Kurz vor Erms dann die Wiese hinauf zum Wanderweg bei Runai. 
Die Strasse überqueren und weiter hinauf bis man zur nächsten Strasse gelangt. 
Dort geht man im und entlang dem Wald (Via Engiadina) Richtung Vnà. 
Man kommt aus dem Wald raus und ist in Prazif. 
Dort den Wanderweg folgen bis zu einem Stall bei einer Verzweigung. 
Dort runter ins Dorf bei der Bushaltestelle Vnà, Jalmèr. 
Hier kurz der Autostrasse ein Stück hinunter bis zu einer Kreuzung (unterhalb der Kirche) 
Hier dann links runter zu einem Stall. 
Unterhalb vom Stall führt es zuerst über Wiesen und dann hinab im Wald. 
Nach einer Weile gelangt man wieder zum Startpunkt der Tour (via dad Erms). 
Hier folgt man dem Pfad wieder hinunter nach Ramosch.  
. 
Responsible for this content Tourismus Engadin Scuol Samnaun Val Müstair AG.


This website uses technology and content from the Outdooractive platform.