News 15 October 2021
Status report on path and road network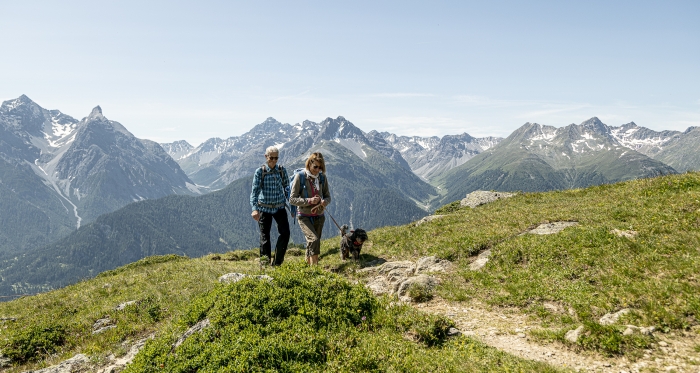 Up-to-date information on the state of the paths, roads and railways in the Lower Engadine.
Hiking
Obstacles and possible waiting times are to be expected on the forest, cycle and hiking trail from Zernez - Susch due to logging work. (Expected until the end of October)
Due to a logging operation, some sections of the hiking trails in Val Zeznina are closed. Along the forest road, access to Val Zeznina is possible at all times. On this stretch it is necessary to cross the campground. You can find a detailed description of the closure here.

In connection with the construction of the "KW Sarsura", the Sarsura hiking trail must be partially closed. The outer section of the Val Sarsura is passable with a diversion. On this section, works traffic must be expected. You can see the closed section and the diversions here.

Due to logging, the hiking trail Val Nuna – Sur En will be closed from 16.09. – 22.10.2021. There is no detour for pedestrians. Over the weekend the hiking trail is open. You can find more information about the closure here.

Due to logging, the hiking trail Via Bain Jon Nair - Plan Grond will be closed from 29.09. – 29.10.2021.
National Park
You can find more detailed information on the path states here.
Biking
More detailed information on the current conditions of the various trails can also be found on Trailforks. 
Via Engiadina Long-distance hike
Current conditions of the stages
The Via Engiadina is passable as normal. 
Current states of the stages
All four stages are rideable. All four stages are rideable.
Closure Resgia - Morteratsch (3rd stage)
The existing path will be closed and diverted in sections due to construction and maintenance work (probably until 31.10.2021). Noise and dust emissions will be limited as much as possible in order to impair the hiking and biking experience as little as possible.
Ftan road, Ardez - Ftan 
Due to road works, the section from Pra da Punt (Val Tasna branch) to Saduas (PP Vias Largias) will be closed to through traffic from 14.10. – 21.10.2021 from Monday to Friday (07.00 - 18.00). Except on Saturday and Sunday. Pedestrians and cyclists can pass the construction site. Access to Val Tasna is guaranteed via Ardez during working hours.
S-charl
The access road to S-charl is open and passable.
Sent
The access road to Val Sinestra is passable.
Flüelapass
The Flüela Pass road Tschuggen - Susch is open.
Livigno Tunnel
Due to construction work, the Livigno Tunnel from the Ofen Pass will be closed from 01.09. – 03.12.2021.