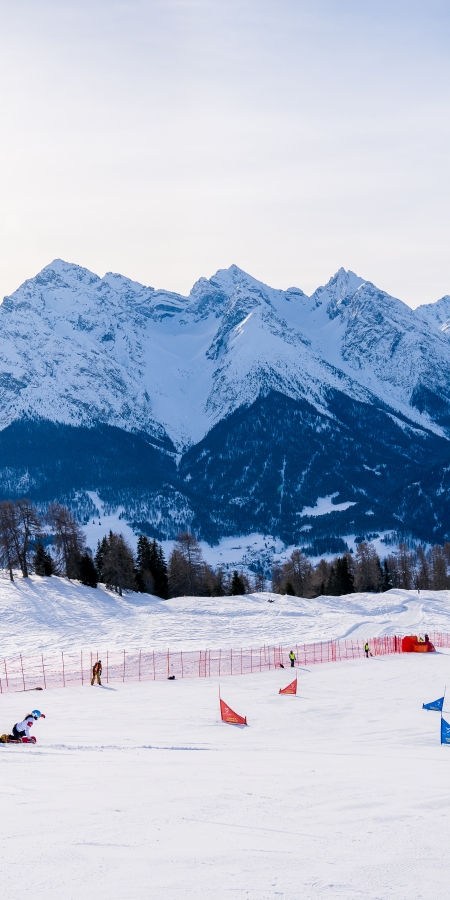 Over 100 athletes from 20 nations compete each January on the Ftan slope "Prui" of the Motta Naluns ski area. The FIS Alpine Snowboard World Cup will be held in Scuol for the fifth time in January 2022.
FIS Snowboard Alpin Weltcup Scuol 2022
The FIS Snowboard Alpine World Cup Scuol 2022 is already being planned. More information will reach you on this page soon.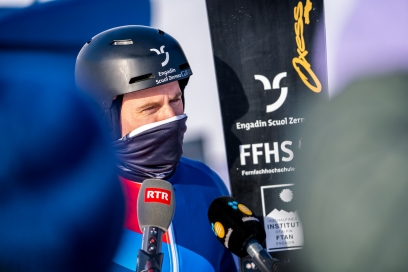 Snowboard und Scuol - eine Erfolgsgeschichte
Scuol war von Anfang an im Zentrum der Snowboard Alpin Szene. Schon im Jahr 1987 wurde in Scuol die erste Snowboardschule Europas gegründet. 
1993 wurde der Scuoler Cla Mosca der erste Weltmeister in der Sportart Snowboard Alpin, 1997 tat es ihm sein Bruder Fadri Mosca gleich. Nevin Galmarini aus Ardez, der Botschafter unserer Ferienregion Engadin Scuol Zernez, krönte seine bisherige Karriere mit zwei Erfolgen an den olympischen Winterspielen und einem Gesamtweltcupsieg in in der Saison 2017/2018. Im Februar 2018 holte er in Pyongchang Gold und wurde Olympiasieger. Vier Jahre davor wurde er für seine Anstrengungen im russischen Sotschi mit der Silbermedaille belohnt. Auch bei den Damen steht eine Scuolerin schon auf dem Sprung in den Weltcup. Ricarda Hauser überzeugte schon letztes Jahr mit sehr guten Ergebnissen. Mit einer Teilnahme am Heimweltcup-Rennen kann gerechnet werden. Dieses Jahr machte der Weltcup zum fünften Mal einen Halt in Scuol und ist damit auch ein fixer Bestandteil im FIS Weltcup-Rennkalender und extrem bedeutsam für die Olympia-Qualifikation. Schon vier Wochen nach Scuol messen sich die Athleten in Peking und küren den Olympiasieger Ihrer Disziplin.