Cross country Sent
Pensiun Aldier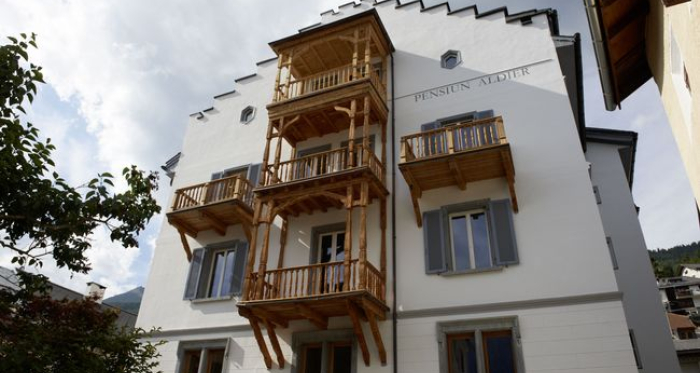 Show all 18 images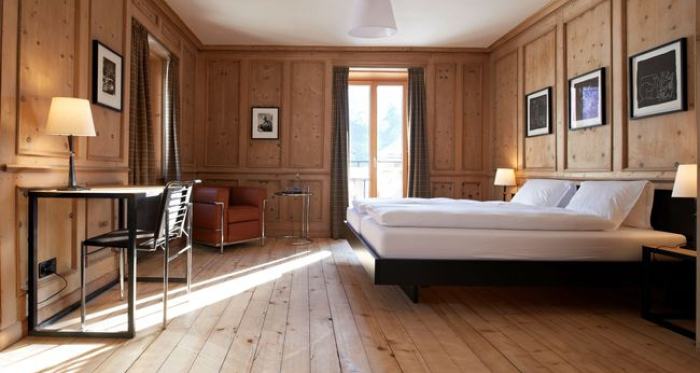 In the middle of this enchanting village of Sent in the Lower Engadine stands our small hotel, the Pensiun Aldier. At the village square, by the fountain. Elegant, interesting and own with its wooden constructions. Being simple stands for an unexcited, decelerated stay in our house. But also means a certain modesty and tranquility. harmony and a conscious simplicity.
Description
Half board Includes dinner with a 5-course menu, or, depending on the season, a rich antipasto and salad buffet with soup, a main course with meat or vegetarian course, cheese interlude and dessert. Room - Single use For double rooms for single use, the price is 70% -100% of double occupancy. Depending on the season and only on request and availability. Prices include VAT and a rich breakfast buffet. The tourist tax is charged separately. Per person and day Fr. 2.80 from 12 years, from 1.1.2022 tourist tax Fr. 5.00 Cancellation For cancellations made earlier than 21 days before booking successes we charge a fee of Fr. 50.00. In case of short-term cancellation (less than 21 days) or early departure, 80% of the booked package will be due. Cancellations are only valid upon receipt of our written cancellation confirmation. At No-Show, 100% of the booked package will be charged. We recommend taking out travel cancellation insurance. Special* Over Christmas and New Year (minimum stay 4 nights), as well as on weekends, the maximum rates (*) apply. For the New Year's Eve menu (mandatory) we charge a supplement of Fr. 70.00 per person. Children In parents' room with two full-paying adults: Up to two years in cot Fr. 50.00 (with ski pass Fr. 75.00) From 2 to 5 years Fr. 60.00 (with ski pass Fr. 85.00) From 6 -12 years (on the sofa bed, if available) Fr. 80.00 (with ski pass Fr. 105.00) children half board (up to 12 years): plus Fr. 20.00 per day Parking We have some hotel parking at Fr. 3.00 per day. Please make a reservation. Public squares within walking distance of the hotel (per week: car park Fr. 25.00, uncovered parking place Fr. 15.00). Dogs We have some rooms where dogs are allowed, provided they are neatly educated and quiet. You sleep in your own bed and don't sit on the furniture! Fr. 25.00 per day without food. We reserve the right to charge against special cleaning of bed linen or rooms. Payment We accept common credit cards (no Amexco) and of course cash. We do not issue invoices and reserve the right to charge a deposit.
Directions
Directions
Check-in, check-out The rooms are ready for check-in at 3 pm earliest. Check-out by 11 am latest.