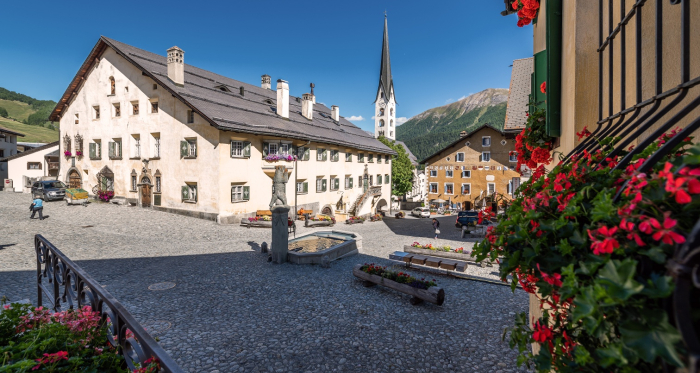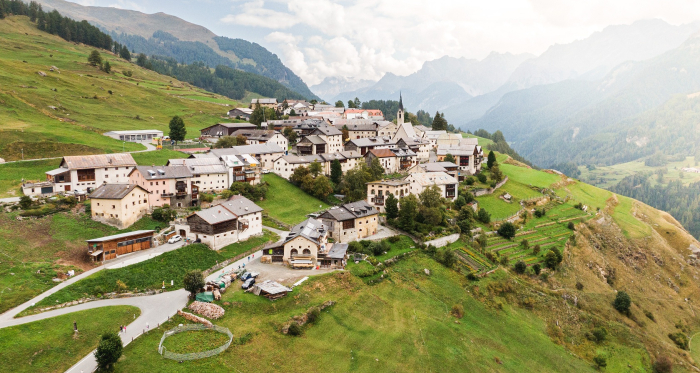 Show all 16 images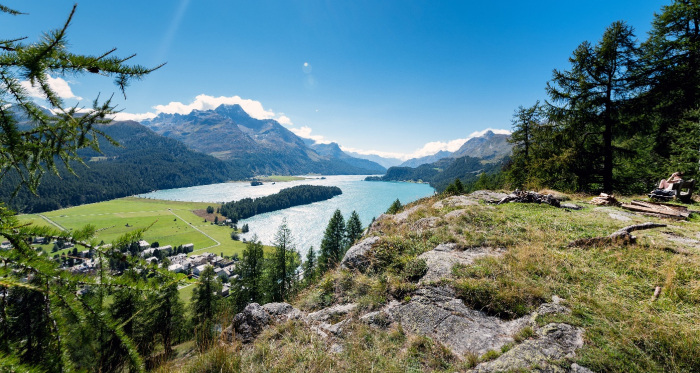 Classic high-altitude trail from the Upper to the Lower Engadine. On the sunny side of the valley along the river Inn, you cross typical Engadine villages, pine and larch forests, crystal-clear streams and lush alpine meadows. The panorama: the gleaming glaciers of the Bernina group and the Engadine Dolomites in the Swiss National Park.
---
Coordinates
46.40129, 9.695271
Description
The Via Engiadina is a long-distance hiking trail along the entire length of the Engadine. The twelve stages connect the village of Maloja in the Upper Engadine with Vinadi in the Lower Engadine on the border with Tyrol. In parts, the classic high-altitude trail runs through alpine terrain, then back down in the valley along the river Inn. A good level of fitness is a prerequisite for this 160-kilometre multiple day tour. But the fragrant stone pine forests, flowering mountain meadows, foaming torrents, picturesque Engadine villages and the impressive panorama quickly make you forget the occasionally tough ascents.
More than 800 glaciers feed the Inn which rises at the Maloja pass. The Via Engiadina also begins in Maloja. The village at the western end of lake Sils connects the Upper Engadine lake plateau with the valley of Bergell. Above the lake, the hamlet of Grevasalvas is worth a visit. Thanks to its picturesque location and rustic houses, it served as a Heidi film set in the 1970s. On the way past Silvaplana and St. Moritz, the gleaming glaciers of the nearby Bernina group are an impressive backdrop. The numerous cable cars in the area bear witness to the long history of the winter sports resort. Over several stages, the Via Engiadina offers wonderful views as well as insights into typical Upper Engadine villages, including Bever, S-chanf and Zuoz. Here you can admire stately patrician houses as well as traditional dwellings with bay windows and elaborately painted facades.
In the Punt Ota valley, the border into the Lower Engadine is crossed via the river of the same name. One of the most strenuous stages ends in Zernez, the gateway to the Swiss National Park. Along the river Inn, the hiking tour continues on a leisurely and relatively even path via Susch to Lavin. The next village is Guarda, home of the children's book hero Schellen-Ursli. The village is characterised by houses decorated with sgraffiti and flowers. Ardez, Sent or Tschlin are also worth a visit, and so are the valleys: Val Lavinuoz with a view of Piz Linard, Val Tuoi with its many contrasts, or Val Sinestra which has won awards on several occasions for its floral splendour. The all-day hikes offer magnificent panoramic views of the Lower Engadine Dolomites. The last stage of the Via Engadina ends in Vinadi on the border with Tyrol.
Geheimtipp
Also suitable for hikers with dogs.
Stop for refreshments in the managed alpine huts with local specialities.
The individual stages are also very nice day tours.