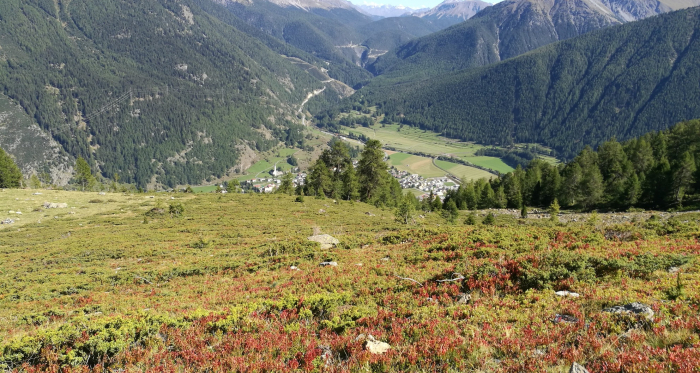 Varied round trip through indescribably beautiful nature on paths that are little used. This route is suitable for advanced skiers, depending on the abbreviation also suitable for beginners and families.
---
Start
Zernez train station (1471 m above sea level.M.)
Destination
Zernez train station (1471 m above sea level.M.)
Coordinates
46.697894, 10.090289
Description
We start at Zernez station. The trail leads us first through the village and then on the hiking trail along the Ofenpassstrasse. After 2.4 km we follow for 200m the ofenpass road, which we cross and follow the hiking trail towards Alp Laschadura. The trail leads first a little steeply through the forest before it becomes flatter again. After 6.4 km we reach the Alp Laschadura, it is located exactly at 2000 m.a.s.l.M. From here we continue through the typical Arvenforest to Alp Ivraina, which is located on a beautiful plain. From Ivraina to Ova Spin we follow the so-called Fool's Way, which is quite steep. We can finish the tour at Ova Spin and take the post bus back to Zernez or follow the hiking trail along the Ofenpassstrasse. This further way is not only worthwhile to visit the old lime kiln near Campsech. Lime used to be burned here, which was used as an important component of mortar as plaster. Via Taglieda we reach the parking lot Laschadura from where we can either follow the hiking trail back to Zernez or take the post bus for the return journey. 
Geheimtipp
This tour is also family friendly, to shorten the tour, we have the possibility to take the postbus to P Laschadura.
The round trip is located next to the national park, so we are not on crowded paths, but usually very lonely on the way.
The Chamanna Ova Spin is open from mid-June to mid-October. (www.ivraina.ch)
A visit to the National Park House or the family bath is recommended.
Sicherheitshinweis
The tour was evaluated in favorable weather conditions, the current weather conditions and weather forecasts must be observed before the start of the tour.
:
144 Emergency Call, First Aid
1414 Mountain Rescue REGA
112 International Emergency Call
Directions
Prà da Punt, Muglin, La Serra, Suot Pisch, Prümaran da Barcli, Alp Laschadura, Ivraina, Ova Spin, Champsech, Taglieda, Prada da Laschadura, Suot Pisch, La Serra, Muglin, Prà da Punt