Bathing in pure mineral water
Bogn Engiadina Scuol
A visit to the Bogn Engiadina is always worthwhile. Here you will find one of the most attractive mineral baths, with a spacious bathing and sauna area, the Roman-Irish bath and other therapy and wellness offers for your holistic well-being.
Dive in, sweat and relax
Bathing and sauna area
Bathing landscape
Here you bathe in pure mineral water. You can choose from six indoor and outdoor pools with massage jets, bubbles, waterfalls and a current channel as well as a saline pool. The highlight is the outdoor pool with the best view of the Engadine mountains.
Learn more about the bathing landscape
Sauna area
Choose between the steam bath, infusion sauna, fireplace sauna, panorama sauna and warm bath sauna. Cool off in the plunge pool, cold water pool, shower grotto or at the waterfall wall.
Learn more about the sauna area
Recreation
After bathing or between sauna sessions, indoor and outdoor relaxation oases invite you to unwind. There is also a drinking station with natural mineral water in the sauna area.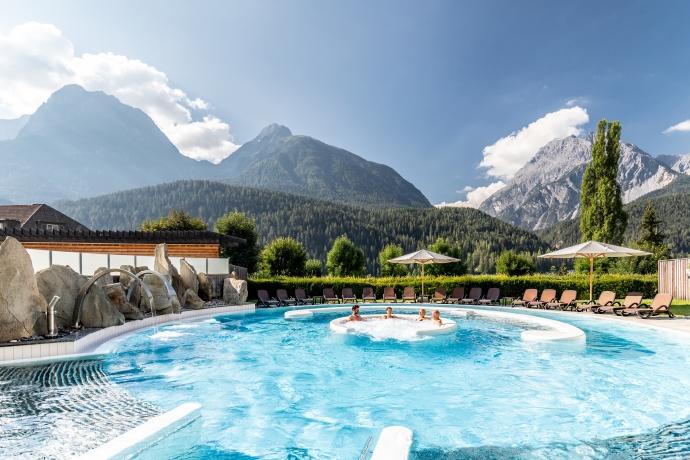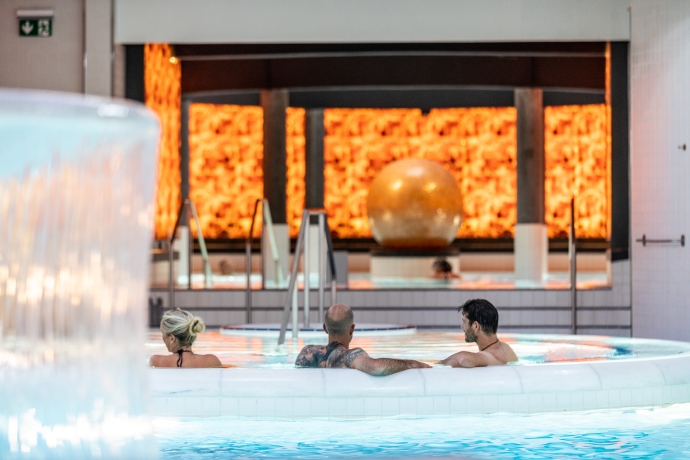 Show all 6 images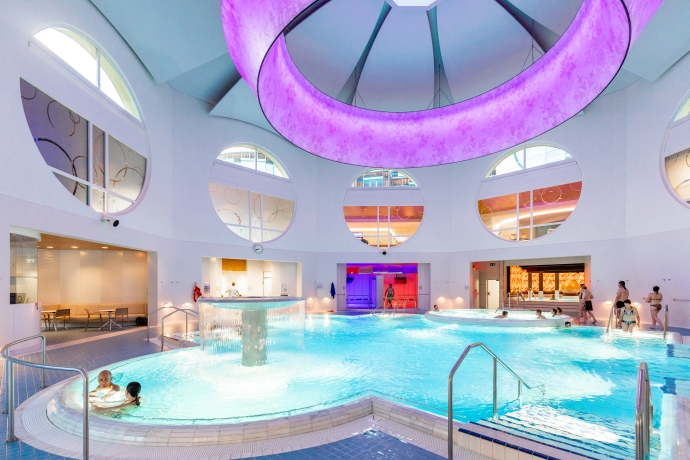 Exclusive bathing pleasure
Roman-Irish bath
In the Roman-Irish bath, Roman bathing culture meets Irish bathing tradition. Here, body and soul can recover and recharge their batteries. The passage takes up to 3.5 hours and the admission is coordinated so that you will only encounter a few visitors during your stay.
Learn more about the Roman-Irish Baths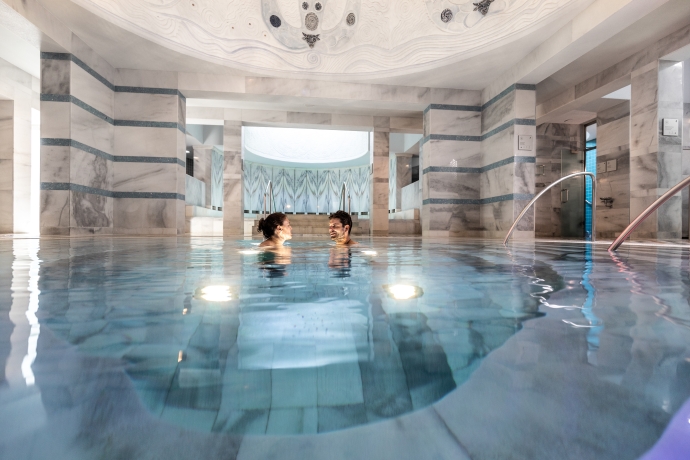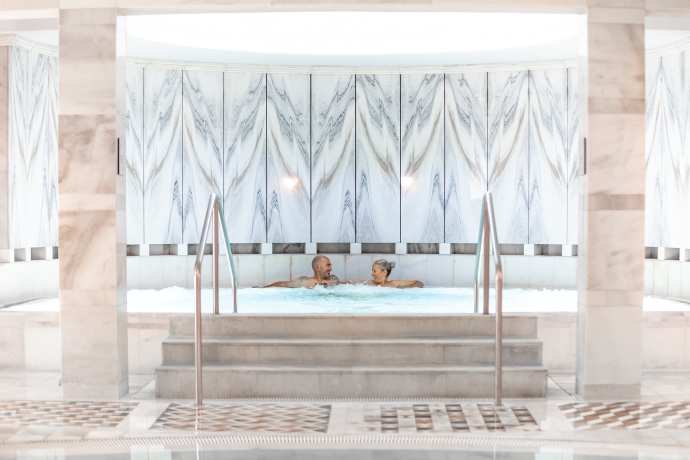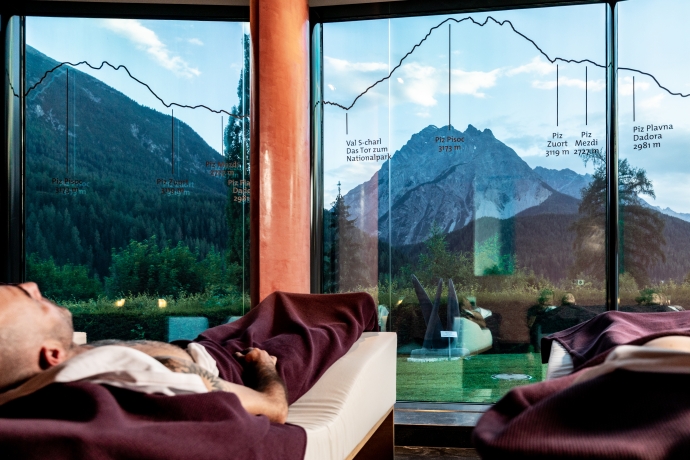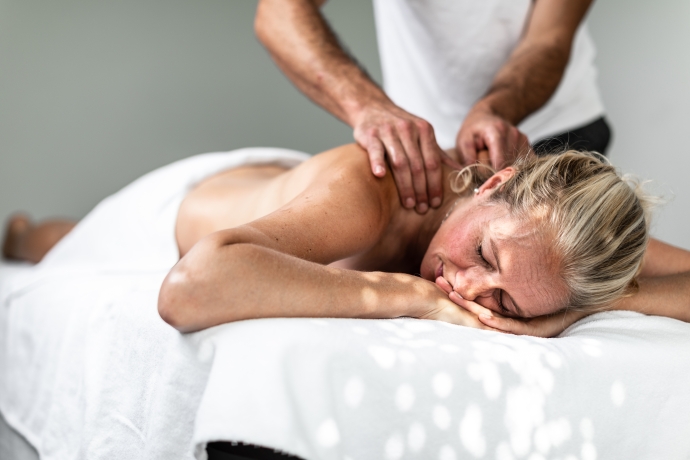 Show all 7 images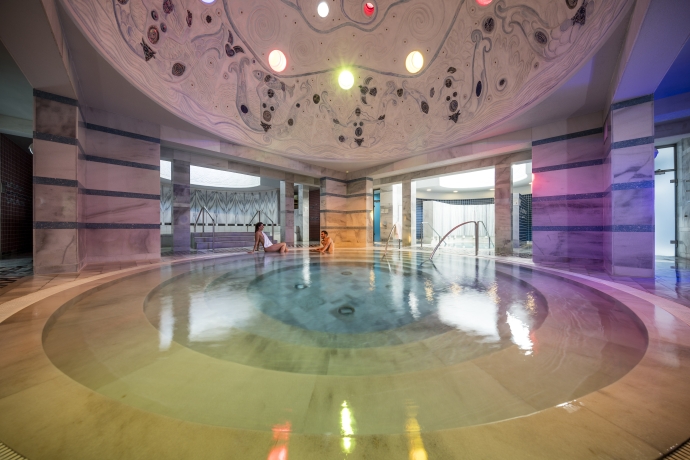 The Bogn Engiadina is open all year round. Detailed opening hours and rates can be found at bognengiadina.ch.
The Roman-Irish bath is accessible from the age of 18. You can find the free times during the booking process in the reservation portal or by calling Bogn Engiadina +41 81 861 26 00.
You may fizz at these times
| | | |
| --- | --- | --- |
| Bathing landscape | daily | 8.00 to 21.45 |
| Sauna area | daily | 9.00 to 21.45 |
| Roman-Irish bath | daily | visible in the reservation process |
| Bathing landscape | Sauna area | Roman-Irish bath |
| --- | --- | --- |
| daily | daily | daily |
| 8.00 to 21.45 | 9.00 to 21.45 | visible in the reservation process |
| | Adults | Teenagers (12 – 17 years) | Children (6 – 11 years) |
| --- | --- | --- | --- |
| Bathing and sauna area: single admission 3 hrs. | CHF 29.00 | CHF 17.00 | CHF 11.00 |
| Bathing and sauna area: evening ticket from 7.30 p.m. | CHF 20.00 | CHF 12.00 | CHF 8.00 |
| Roman-Irish bath: single entry | CHF 60.00 | not possible | not possible |
| Roman-Irish bath incl. day ticket bathing and sauna area | CHF 82.00 | not possible | not possible |
| | Bathing and sauna area: single admission 3 hrs. | Bathing and sauna area: evening ticket from 7.30 p.m. | Roman-Irish bath: single entry | Roman-Irish bath incl. day ticket bathing and sauna area |
| --- | --- | --- | --- | --- |
| Adults | CHF 29.00 | CHF 20.00 | CHF 60.00 | CHF 82.00 |
| Teenagers (12 – 17 years) | CHF 17.00 | CHF 12.00 | not possible | not possible |
| Children (6 – 11 years) | CHF 11.00 | CHF 8.00 | not possible | not possible |