2 February 2024
Schlitrada - Sledge race Tschlin
When the slopes of Valsot are at their snowiest, the locals organise the traditional toboggan race. An event that was the festival of the single people back then and is at least a centuries-old custom. 
«The joy and the urge of the youth for a festive experience are what conjure up the Schlitrada every year like a colourful, life-giving flower from the austere enamel of the Engadine winter,» is how the NZZ of 1951 described the festival. «I have been a part of it for at least 40 years,» Georg Janett from Tschlin recalls today. He and the Bun Tschlin association are happy to maintain this tradition. 
This year, the Valsoter Schlitrada will take place on Friday, 03 February 2023. The participants are nowadays not only single people, but everyone. The meeting point is just before 7 p.m. below Tschlin - and after registering, the sledge ride to Strada can already begin. Where a dumpling festival and the prize-giving ceremony await the participants and round off the event.  
Meeting point: 19.00, below Tschlin
Cost: CHF 15.00 - participant gift and dumpling included in the price
Bring along: Sledge, headlamp and warm clothing.
Further information: Bun Tschlin, 7550 Scuol, Stradun 322, Tel: 081 864 02 02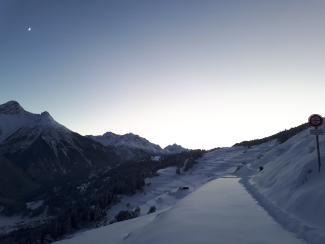 The start is at the stables of Andri Caviezel and Ernst Meier, below Tschlin.  After about 300 m, the toboggan run makes a sharp right turn and leads partly into the forest, partly past the edge of the forest. After 500 m in a south-westerly direction, the trail makes a left turn. Shortly afterwards, four smaller bends follow, which are in open terrain. And so it goes slowly but surely towards the end of the path, which is in front of the bus stop Strada i. E., Cuncalada. Be careful at high speed, the curves are narrow. 
Culinary.
Catering at the Schlitrada
The dumplings
Original South Tyrolean dumplings are served by Sigrid Noggler at the Schlitrada. The South Tyrolean dumpling specialist is happy to share her secret recipe with us.
Ingredients
240g bacon, finely diced
2 onions
500g dumpling bread
60g butter 
300ml milk
1 tbsp chives
I put the butter in a pan and fry the onion and bacon in it. At the same time, I mix the flour and chives with the dumpling bread and add salt and pepper. Now I add the onion and bacon, milk and eggs and mix it all together. Then I try to remove as many eggshells as possible from the dough :-) And finally I form the dumplings and cook them in bullion for 15-20 minutes. - Sigrid winks as she tells me and is already looking forward to the Schlitrada.
Bun Tschlin bundles the unique forces of nature: the cool freshness of the mountain streams, the bright clarity of the alpine sky, the tangy scent of a mountain meadow. All these energies are stored in local natural products. The municipality of Valsot offers countless discoveries, hikes and sporting experiences.