Hints & Tips
Arrival, timetable & mobility on site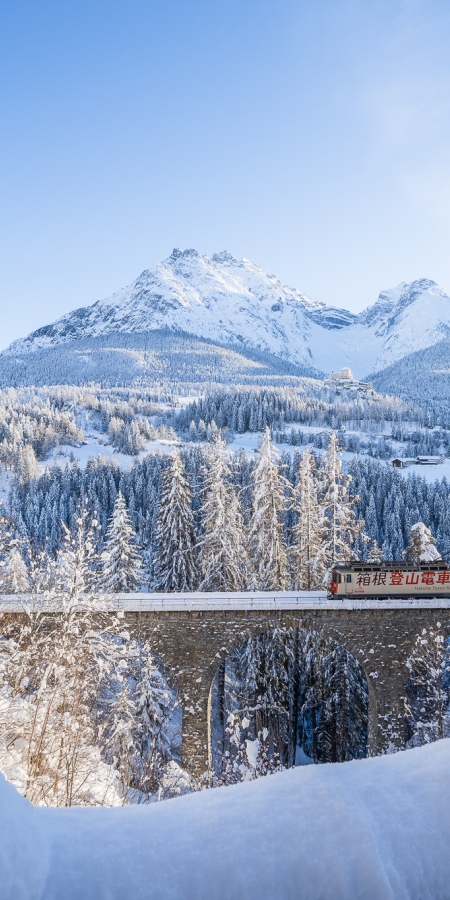 Many roads lead to the Engadine – whether by public transport or your own car. Below are our tips for your journey and your mobility on site.
On site by public transport
Summer season
During the summer months, the regular prices for using public transport (öV) apply throughout the Engadin Scuol Zernez holiday region. You can get your ticket at the ticket machines at the bus stops, directly on the bus (if the Corona measures allow this) and via the SBB timetable app.
Winter season
During the winter season, the following conditions apply in the Engadin Scuol Zernez holiday region. Outside of these guidelines, the regular prices apply. 
Within the village of Scuol, the zero fare applies to all persons on all PostBus routes, both with or without a ski ticket.

Holders of a valid ski ticket also have free travel on the sports buses. This applies to the PostBus lines in the direction of Scuol, Sent, Sur En, Vulpera, Tarasp and Ftan. 
Useful information
Arrival from Germany:
Basel – Zürich – Landquart – Klosters – Vereina (car transport) or Flüelapass (1 May at the earliest until 6 January at the latest) – Sagliains – Scuol: 242 km
München – Innsbruck – Landeck – Pfunds – Vinadi – Scuol: 222 km
Konstanz – Landeck – Pfunds – Vinadi – Scuol: 223 km
Arrival from Austria:
Wien – Salzburg – Innsbruck – Landeck – Pfunds – Vinadi – Scuol: 604 km
Innsbruck – Landeck – Pfunds – Vinadi – Scuol: 128 km
Arrival from Italy:
Tirano – Berninapass – St. Moritz – Zernez – Scuol: 175 km
Trento – Bolzano – Merano – Malles – Nauders – Scuol: 189 km
Arrival from France:
Paris – Basel – Zürich – Landquart – Klosters – Vereina (Autoverlad) – Sagliains – Scuol: 742 km
About Switzerland:
Via the Engadinstrasse: via Vereina (car transport) or the Flüelapass (1 May at the earliest until 6 January at the latest)
Further information on the Flüela Pass can be found at pro Flüela
Useful information
Arrival from Germany:
Basel – Zürich – Landquart – Klosters – Vereina (car transport) or Flüelapass (1 May at the earliest until 6 January at the latest) – Sagliains – Scuol: 242 km
München – Innsbruck – Landeck – Pfunds – Vinadi – Scuol: 222 km
Konstanz – Landeck – Pfunds – Vinadi – Scuol: 223 km
Arrival from Austria:
Wien – Salzburg – Innsbruck – Landeck – Pfunds – Vinadi – Scuol: 604 km
Innsbruck – Landeck – Pfunds – Vinadi – Scuol: 128 km
Arrival from Italy:
Tirano – Berninapass – St. Moritz – Zernez – Scuol: 175 km
Trento – Bolzano – Merano – Malles – Nauders – Scuol: 189 km
Arrival from France:
Paris – Basel – Zürich – Landquart – Klosters – Vereina (Autoverlad) – Sagliains – Scuol: 742 km
About Switzerland:
Via the Engadinstrasse: via Vereina (car transport) or the Flüelapass (1 May at the earliest until 6 January at the latest)
Further information on the Flüela Pass can be found at pro Flüela