Play of light and shadow
Winter hiking in the Engadine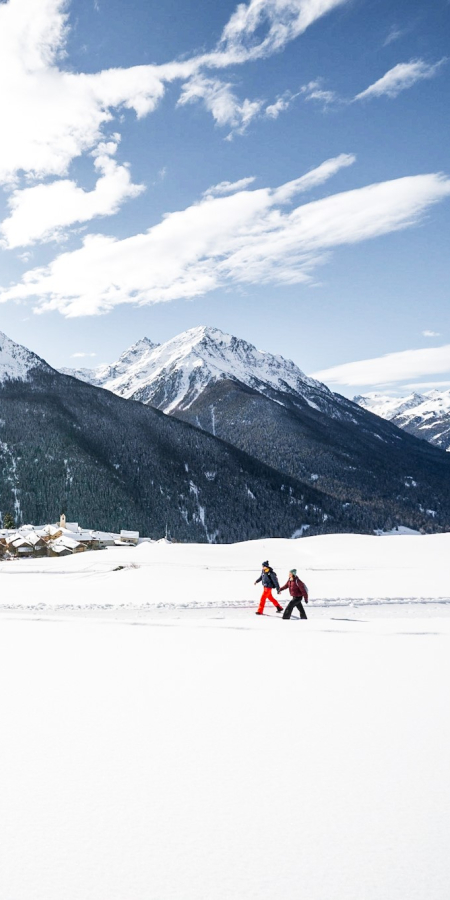 Like a sgraffito, winter in the Engadine lives from the tension between light and shadow. Here the gentle and wide landscape with sun-drenched Engadine villages far above the Inn, there forests in the shadow of the rugged Lower Engadine Dolomites. 
Breathtaking.
Our winter hiking world
Over 160 km of winter hiking trails, numerous mountain restaurants, complete signposting and access by PostBus, RhB and mountain railways make winter hiking in unspoilt nature an experience. Depending on your needs, you can take tours lasting several days, such as the Via Engiadina, or take advantage of the variety, change the side of the valley spontaneously and enjoy the winter at your own pace.
Our bookable offer.
Winter hiking holidays
Would you like to explore the winter hiking trails during your holidays? Let our «Via Engiadina Winter» package inspire you. You will hike from one Engadine village to the next and benefit from organised luggage transport.
Useful information.
Plan your winter hike
Winter hiking in the Lower Engadine offers pure enjoyment. So that you can focus entirely on this, we have compiled useful information for tour planning below.
Inspiration.
More topics on winter hiking
The Lower Engadine has even more to offer in winter. Let people from the region inspire you for your next winter hike.
Take care of our wildlife
Animals need a lot of strength and endurance in winter, for example to rummage under the snow cover for twigs and buds. Even more energy is needed to escape. To ensure the animals as much rest as possible, we ask you:
Observe wildlife rest areas and protected areas.
Stay on the trails.
Avoid forest edges and snow-free areas.
Keep dogs on a leash.