Sportgeschäft
Hangl's Snow How Center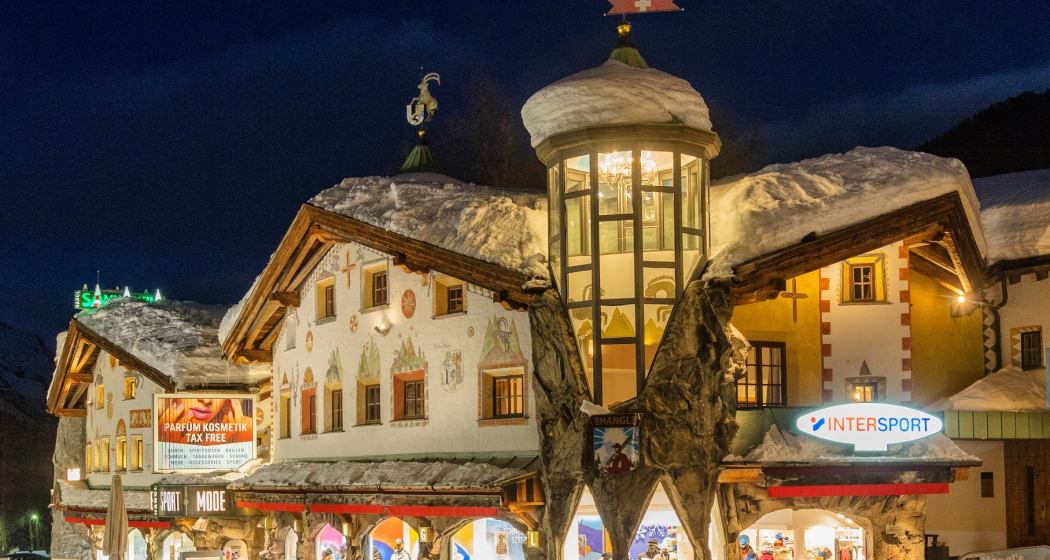 Sports shop with a large range of winter sports items in Samnaun Dorf.
Description
Reserve skis, snowboards and more online!
Hangl`s ski rental
You only ski rarely or always want to test the latest models? Then Hangl's Sport & Mode is the right place for you. In our rental shop you will find the latest skis as well as the matching equipment such as boots or poles to rent. No matter what your needs or conditions, we are guaranteed to have the right equipment for you. Choose from models in different price ranges or conveniently book a complete package that includes all the equipment (no rental helmets for adults). We also have skis, poles, boots and children's helmets available for children of all ages. Our competent staff will be happy to advise you.
https://www.intersportrent.ch/de/shop/shop/index?select_shop=10853#/dateselect
Hangl's ski boot fitting service
A boot only becomes an optimal boot when it fits like a glove!
Hangl's world champion steps to the optimal ski boot fitting:
FOOT ANALYSIS AND MEASUREMENT
Analysis of the foot and possible problem areas
CHOOSING THE BOOT MODEL
Joint selection of the boot model, taking into account the anatomy of the foot and body as well as the skier's ability.
BOOT FITTING SYSTEMS
Selection and determination from the following fitting options:
> Strolz inner boot foaming
> Fischer Vacuum Fit
> Nordica Infrared
> Atomic Memory Fit
> Salomon Custom Fit
SPORTS INSERT
With the right sports insole we reduce pressure zones and improve pressure distribution. The optimal sports insole is the be-all and end-all of perfect boot fitting!
FREE REWORKING
Reworking, if necessary.
We rise to the challenge and achieve above-average comfort, improved performance and power transmission.
https://www.hangl.ch/shoppen/sport-mode/serviceleistungen/schuh-anpassungen.html
Shoe fitting outside the winter season (from 2 May to 25 November) by appointment only.
HANGL`S WORLD CHAMPION SKI & BOARD TUNING
For a perfect experience on the slopes and for your safety!
INSPECTION AND SKI ANALYSIS
Detailed inspection of the ski / board.
BASE REPAIR
Filling of all existing grooves, holes and notches.
BASE GRINDING
Precise grinding and structuring of the entire base by stone grinding.
Thanks to the diamond and the grinding stone, we achieve a wide variety of base structures adapted to the snow conditions.
EDGE GRINDING
The electronic adjustment of the Ceramic Disc grinds the bottom and side edges individually between 85 and 90 degrees, depending on the piste conditions.
WAX AND POLISH
Wax selected according to snow temperatures saturates the base.
Final polishing removes wax residues.
OUR OFFER
Original World Cup race sharpening on special machines
Large ski or board service
Small ski or board service
Children's ski service
Waxing by hand with iron
Waxing by machine
Binding adjustment
Service for Snowblade or Big Foot
https://www.hangl.ch/shoppen/sport-mode/serviceleistungen/intersport-rent/ski-und-snowboardservice.html
Opening hours
November - beginning of May
Daily, including all Sundays and public holidays
8 a.m. - 7 p.m.
Translated with www.DeepL.com/Translator (free version)
Contact
Hangl's Snow How Center
Dorfstr. 5, 7563 Samnaun