Ski instructor with heart and soul
Cla Neuhaus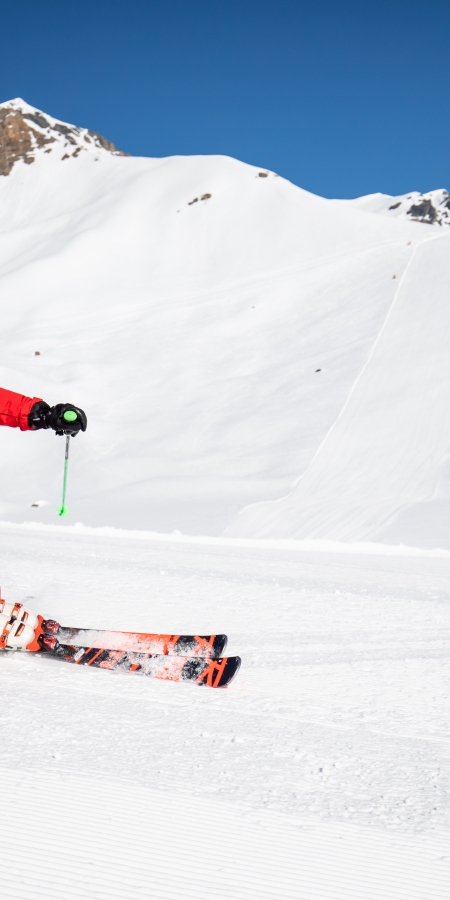 Skiing is his profession and his passion. Cla Neuhaus has been working at the Scuol Ftan Ski School for 25 years and knows the Motta Naluns ski area like no other. In the portrait he tells us where the best slopes are.
By Franco Furger
There is excitement at the assembly point. Around 700 children have to find their ski instructor. In the middle of it all is Cla Neuhaus, coordinating. With his left hand he makes phone calls, with his right he gives instructions. Nevertheless, he finds time to reassure parents and comfort children. At 9:45 a.m. on the dot, the groups set off, with a ski instructor dressed in red in front and six to eight students behind him.
800 ski students in one day
All routine for Cla Neuhaus, who radiates calm and a natural authority. He is the managing director of the Swiss Ski School Scuol Ftan and is responsible for 115 ski instructors, 15 snowboard instructors and up to 800 ski students a day during the high season. 90 percent are children who learn to ski in groups, improve and have fun together.
Every day I see this unique panorama
"I love my job. I especially like the fact that I have to deal with people. And I enjoy the privilege of seeing the mountain panorama every day," says Cla.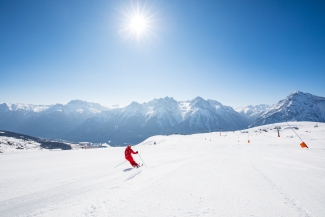 The 48-year-old has been working at the Scuol Ftan Ski School for 25 years. He found his vocation as a ski instructor more by chance than by planning. After training as a carpenter, he had some free time and didn't quite know what to do. On the way out, a friend told him: why don't you work with me as a ski instructor? The next day Cla reported to the ski school office.
Once a ski instructor, always a ski instructor
"Actually, I only wanted to work as an assistant ski instructor for a few weeks, but I was so fascinated that I stayed until the end of the season." The following winter, Cla began training to become a snowsports instructor. In the ski school, he took on more responsibility year after year until he became ski school director in 2010. He always remained loyal to his place of residence, Ramosch. "This is where I grew up, this is where I feel most at home."
Early in the morning you are practically alone on the dream slope to Sent
The passionate ski instructor knows the Motta Maluns area like no other. "We have great slopes, cozy mountain restaurants, lots of sun and a super panorama. What I particularly appreciate is the family and relaxed atmosphere." And what is his favorite slope? "That depends on the conditions. But the dream piste to Sent is already extremely fun." His tip: "Ski the dream piste early in the morning, then you're practically on your own."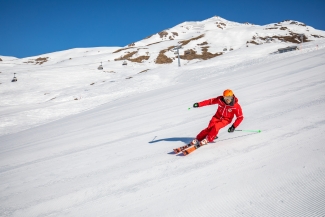 When it's busy, Cla advises heading straight to the Champatsch ski lifts. "The location is sunny, the slopes are great and most people come here later." The ski instructor also knows an insider tip in the event of a storm or poor visibility: "The slope from Prui to Ftan is sheltered in the forest. Here, skiing is always fun, no matter what the weather does."
Problems are there to be solved immediately
During the season, he has little time to enjoy the slopes for himself. As a ski school manager, he is virtually around the clock coordinating, planning, selling and making phone calls. It's not unusual for him to sit alone in the office in the evening and type the latest bookings into the system. 
But it is important to him to be on the mountain every morning to see on site whether everything is running smoothly. "I always try to solve problems immediately. After all, it's no use if parents only remark at the end that their son is in the wrong class." Cla places a lot of emphasis on open and direct communication - and punctuality. "With so many ski instructors, you can't do without it."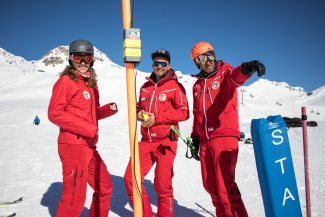 Real winters, mild summers
The father of two finds a change from his hectic ski school routine in the summer. For four months of the year, he works as a self-employed carpenter. "Working alone and in peace on a piece of furniture is something I really enjoy." In his free time, he likes to be outdoors, hiking, biking or hunting. And of course skiing, which is also his great passion in his private life. "I like living in the Lower Engadine so much because nature is so pristine here and all four seasons are attractive. We have real winters, but also mild summers," Cla explains.
A ski instructor needs patience and joy in teaching
As a ski school director, the digital world is also part of his everyday life. He controls the schedules via an app and more and more people are booking online. "A lot has changed in the past 25 years. Training to become a snow sports instructor has also become much more structured and professional," Cla knows. One thing, however, has remained the same: "A ski instructor needs patience and joy in teaching."
Carving not slide
Does Cla also have a tip on how to ski better? "Many people don't really carve, but slide through the turns: they still ski the old technique," explains the pro and adds with a laugh: "Our ski instructors will be happy to show you how real carving works in a private lesson. After all, not everything can be revealed at this point."
Text: Franco Furger
Pictures: Dominik Täuber, Claudio Daguati