Playing tennis in the Engadine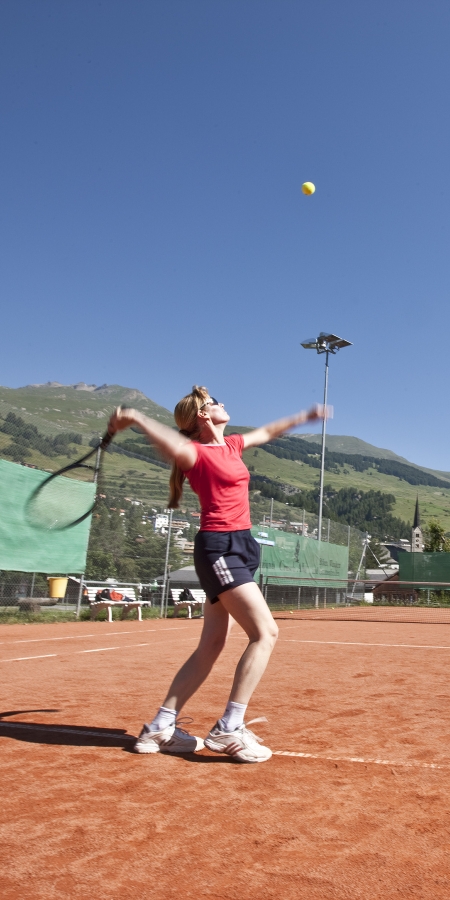 The Scuol tennis courts are located in Gurlaina in a wonderful location with a beautiful view of the village and are open not only to club members but also to holiday guests. Depending on the weather, the courts are playable from the beginning of May until around mid-October.
During the cold days, the tennis court in Gurlaina is not accessible. Alternatively, a court is available in the former Vulpera tennis hall. This can be requested from the Vulpera holiday centre. Please note that the hall is not heated.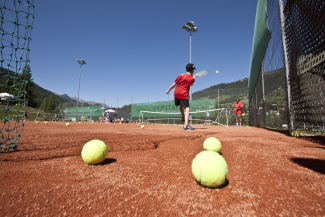 Weekly tennis training
Luis organises spontaneous and relaxed meetings on the tennis court every Wednesday morning. Registration for all seniors directly with Luis Cagienard, Tel. +41 76 571 90 07.
Club membership
Become a member of the club! By doing so, you make our activities possible and contribute sustainably to the maintenance of the tennis facility in Scuol. Membership costs:
Active members CHF 300.00 per year
Married couples CHF 560.00 per year
Active members in training (up to 25 years) CHF 150.00 per year
Juniors CHF 110.00 per year (Juniors in junior training play for free)
Unique offer
In the first year we offer you the membership for CHF 100.00 per year! Membership can be cancelled until April of each year.
Contact
Verena Erni,  +41 81 864 06 43
Tennis instructor, Hans Punter, +39 335 592 80 06
Tennis restaurant «Plazzin» +41 78 709 40 41
The Club da Tennis Scuol is looking forward to your visit!
Markus Egger, President
Regula Wasescha, Treasurer
Stephan Schnyder, Actuary
Walter Erni, Game Manager
Verena Erni, Material Property Manager
Röbi Amstutz, Junior Manager      
Tina Bott/ Angelika Schnyder, Auditors