Tradition
Alpabzug in the Lower Engadine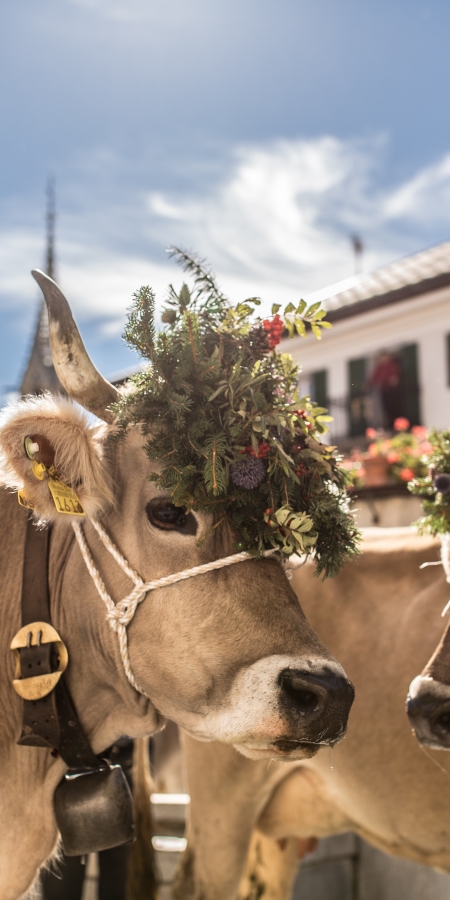 The alpine summer is coming to an end and it is time to bring the cattle back to the village. We hear the ringing of bells from far away, until they finally pass us, the festively decorated animals. Everyone comes together on the village square and together we enjoy the beautiful atmosphere of the festival restaurant.
The dates of the Alpabzüge 2021 in the Engadin Scuol Zernez holiday region will follow in the course of September. We thank you for your understanding and look forward to welcoming you again soon to this highlight. 
18 September 2021
Alpabzug Sent
The Alpine Removal in Sent will take place on 18 September 2021.
Programme
From 10.00 a.m., refreshments and sale of alpine cheese in front of the alpine dairy. Take the opportunity to enjoy a barbecue lunch and a portion of meringues with fresh whipped cream. 
The cattle are expected to arrive on the village square in Sent at around 3.00 pm. 
25 September 2021
Alpabzug Ftan
The alpine retreat in Ftan will take place on 25 September 2021. Further information will follow soon.
2 October 2021
Alpabzug Ardez
In Ardez you can expect an alpine goat migration. This will take place on 2 October 2021, corona situation permitting. More information about the programme will follow soon.
Alpabzug Guarda
The Alpabzug Guarda has been cancelled for 2021 due to the Corona measures.