Our advice
The most beautiful places for fly fishing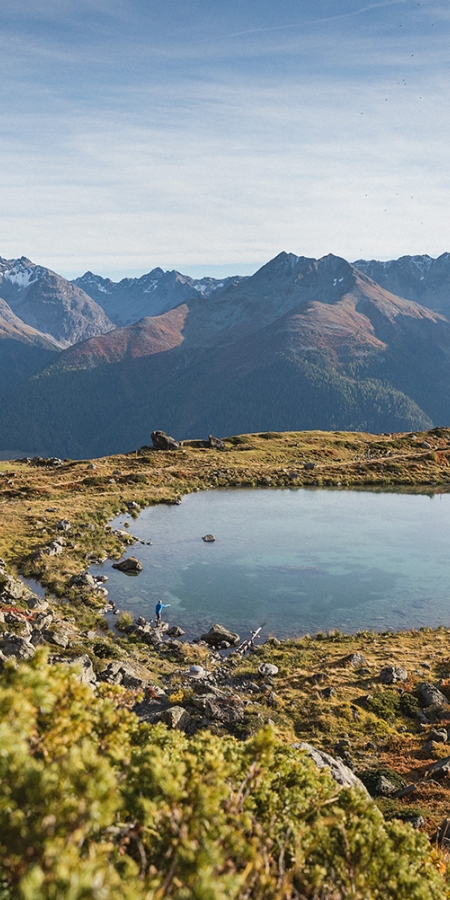 The Lower Engadin offers fly fishers many opportunities to practise this hobby. Below you will find our tips for the most beautiful fly fishing spots in the region.
Tip 1:
On the Inn – from Zernez to Brail
On this section of the Inn you have the opportunity to try your hand at fly fishing at two different spots. One entry point is directly below the community of Brail. Due to the difficult access, the quality and size of the fish are better. However, you have to be careful here, the entry is very rocky and steep. The accompaniment of a local person or even a guide is therefore recommended. 
The second access is directly at the listed footbridge between Brail and Zernez. This access to the hut is much easier than the first one. From the bridge you have to fish upstream because of a closed section. After about half a kilometre you reach a large pool with many brown trout. On both stretches it is recommended to fish with nymphs and not with dry flies.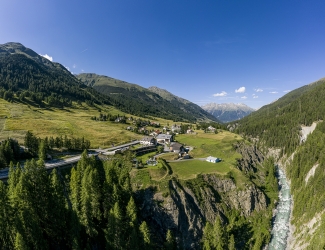 Tip 2:
On the Inn – from Giarsun to Zernez
Due to the confluence of the Spöl and Inn rivers, the water speeds up from Zernez. From Zernez, the hostel winds through untouched and sparsely populated nature. This often gives the feeling of being completely alone. On the left side of the hostel is a field path that is particularly suitable for walks along the river. The lower part of the hostel is not accessible from the main road.
This stretch of water is mainly home to brown trout and also some grayling. The nymph is particularly suitable for fishing at the beginning of the season and the dry fly from mid-August.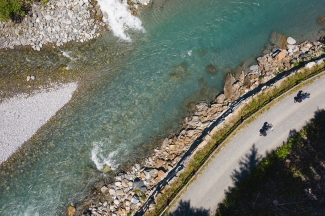 Tip 3:
On the Inn – from Martina to Sur En
This section offers the opportunity to fish mainly for brown trout. Seen from Sur En, the special features of the Inn are the sandbanks, alluvial landscapes and boulder fields.
In recent years, the Inn has changed the landscape in these areas several times due to the large amounts of water in spring. This has led to the creation of new fishing grounds.
The Inn is easily accessible in many places along this stretch. Dry flies and nymphs are also suitable for fishing.
Good to know: Incidentally, Ramosch is home to the first «Fly Only» stretch in the canton of Graubünden.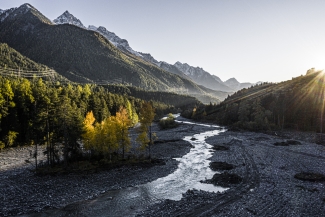 Tipp 4:
Along the Clemgia – from the Mingèr power station to the Alp Astras
At the very bottom of the S-charl valley, on Alp Astras, you can start fishing. Here the water is still calm and the brown trout are very voracious. Downstream, more tributaries join in and the water gets a little wilder. There are both small waterfalls and large pools.
The Clemgia is very easy to fish all the way to the Mingèr power station and is easily accessible everywhere. Large flies or crayfish imitations are best for fishing.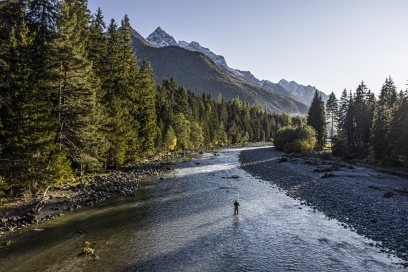 Learn more about the Engadin Scuol Zernez holiday region: