Those who know Romansh can do more - "Chi chi sa rumantsch, sa daplü"
Christina Sedláček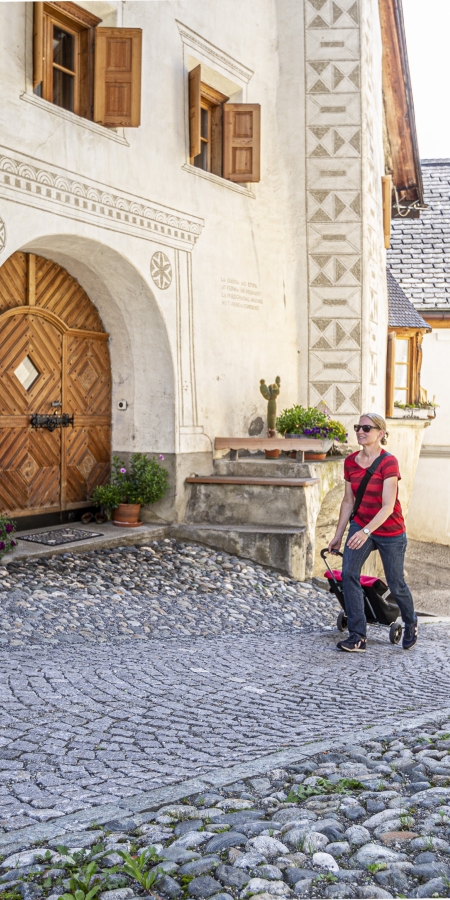 Does it make sense to learn a language that just 5000 people speak? In an area where everyone knows German anyway? Christina Sedláček, a mother of three, teacher and pensioner by choice, is sure: yes, it makes sense. And she shows that Romansh is more than just a minority language. It is an identity-forming part of Lower Engadine culture and just as alive as the people who speak the language every day.
Cumünanza: The key to arriving
Even if you can get away with speaking German in the Lower Engadine, it is clear to Christina Sedláček from Sempach that you can only become part of a village community if you also speak its language: "Without a knowledge of Romansh, a central part of your cultural identity remains hidden and you only get half of what is going on. I enjoy having a little 'baderlada', a chat, while shopping in the village stores. I then realize that I have arrived, in Sent, and in Romansh. And that life here slows me down." In the meantime, the Vallader* of the "Unterländerin" is so good that she no longer teaches only German-speaking classes at the Academia Engiadina in Samedan, but also Romansh classes. And with a wink, she reveals, "When in doubt, I ask my husband Jan or the students for the right expression."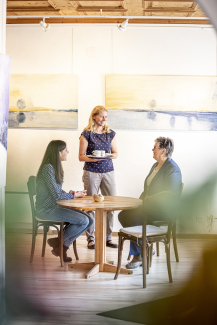 Ingaschamaint: Grotta da cultura
Arriving also means adapting to the pace of village life, surrendering to the Engadine way of life and getting involved. Shortly after the Sedláček family moved from the "Unterland" to Jan's home in Sent, Christina was asked if she would like to get involved in the "Grotta da cultura". She doesn't hesitate for long. The fact that there is a cultural meeting place here for locals, second-homers and guests has long made a positive impression on the teacher. Since then, she has organized two or three events a year and helps out wherever support is needed. One old tradition that is particularly close to her heart and that the three of them have brought back to life at the suggestion of a Grotta colleague is the New Year's ball "Bal da Büman a la veglia" - a celebration with music and dancing that appeals primarily to locals.
A Sent be Rumantsch: Language course with a difference
Christina was immediately enthusiastic about the initiative "A Sent be Rumantsch". Every two years in November, interested people can stay with a host family in Sent for a week and take part in a varied program of lessons and excursions during the day. The trick is that both guests and hosts take an oath to communicate exclusively in Romansh throughout the week and to consume only Romansh media. No wonder, at the end there are still one or two things that need to be clarified: for example, whether they really understood correctly that Donald Trump was elected president of the USA?! "The week as a host family was very enriching for us. A friendship has developed with our guest and we can well imagine hosting someone with us again."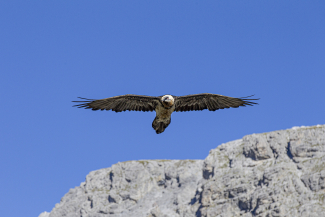 Girun: secret language with the bearded vultures
But how does one learn a minority language like Romansh? Even as a child, Christina is fascinated by the idea of being able to speak Romansh and thus having a kind of secret language. As a young student of natural sciences at the University of Zurich, she comes a first step closer to this goal: she takes over an observation post in the Swiss National Park for some time during a reintroduction project of bearded vultures. To pass the time in the wilderness, she uses the cassettes and exercise sheets of the Vallader basic course of the Lia Rumantscha. After all, she wants to be able to converse with the local park rangers in their language.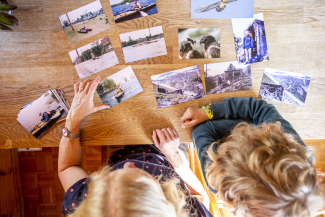 Viadi: Romansh in Montréal
During her time in Zurich, Christina also meets and falls in love with Jan, a climatologist from Sentner. At the beginning, however, Romansh remains her "vacation language". Only when they decide to go to Montréal for a few years does this change. Because for Christina it's clear: "If we don't speak Romansh with each other in Canada, I'll forget everything." No sooner said than done. And so it happens that the young natural scientist perfects her Romansh in Montréal and not in the Engadine. When a son and later a daughter were born in Canada, Vallader finally established itself as the family language.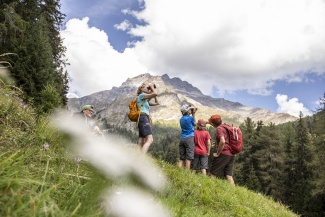 Dürabilità: Back to nature
Back in Switzerland, the Sedláček family settles in Greifensee. But the desire to move to the Engadine sooner is growing. So after careful consideration, they head for Sent, the mountain village high above the Inn River, known for its beautifully preserved village structure with Engadine houses as well as Italian-style palazzi. For Christina today, it was the right decision: "There is hardly anything more beautiful than being able to immerse yourself in nature right on your doorstep. We try to live our lives as sustainably and close to nature as possible - the Lower Engadine is simply perfect for this." The biologist still feels a special bond with "her" bearded vultures and is therefore always to be found in Zuort. Here, with luck and a trained eye, the chances are good of catching a glimpse of the majestic birds.
Cumbinella: How everything falls into place
When asked about her favorite Romance word, Christina immediately answers: "La cumbinella - puzzle in Vallader". She likes the sound of the word and also its origin, coming from cumbinar: to put something together, to combine. And just as the "cumbinella" at the Sedláček family's Küchentich ultimately forms a harmonious picture, so too does Christina's life's journey come together. Sent in the Lower Engadine, with its language, people, culture and nature, has become Christina's home.
Text: Martina Stadler
Bilder: Andrea Badrutt
Video: OnAir Productions
*Vallader: Vallader is one of the five official Rhaeto-Romanic idioms, which is also written. It is spoken in the Lower Engadine and in a modified form ("Jauer") in the Val Müstair. For about 5000 people, Vallader is still the most widely spoken language in the family, at school or at work. Further information on the Romansh language in the canton of Graubünden as well as language courses can be obtained from the Lia Rumantscha.
| Chi, chi sa rumantsch, sa daplü | Wer Romanisch kann, kann mehr |
| --- | --- |
| il girun | der Bartgeier |
| il viadi | die Reise |
| la dürabilità | die Nachhaltigkeit |
| la cumünanza | die Gemeinschaft |
| la baderlada | der Schwatz |
| l'ingaschamaint (m) | das Engagement |
| A Sent be Rumantsch | In Sent nur Romanisch (Projekttitel) |
| la cumbinella | das Puzzle |
| Sedláček | tschechisch: kleiner Bauer |
| | | | | | | | | | |
| --- | --- | --- | --- | --- | --- | --- | --- | --- | --- |
| Chi, chi sa rumantsch, sa daplü | il girun | il viadi | la dürabilità | la cumünanza | la baderlada | l'ingaschamaint (m) | A Sent be Rumantsch | la cumbinella | Sedláček |
| Wer Romanisch kann, kann mehr | der Bartgeier | die Reise | die Nachhaltigkeit | die Gemeinschaft | der Schwatz | das Engagement | In Sent nur Romanisch (Projekttitel) | das Puzzle | tschechisch: kleiner Bauer |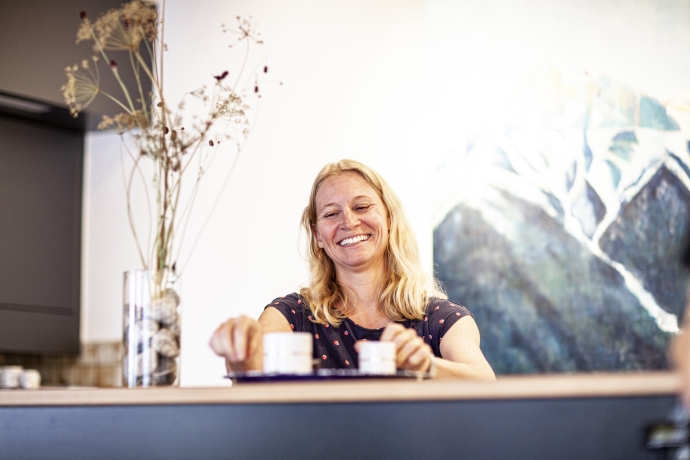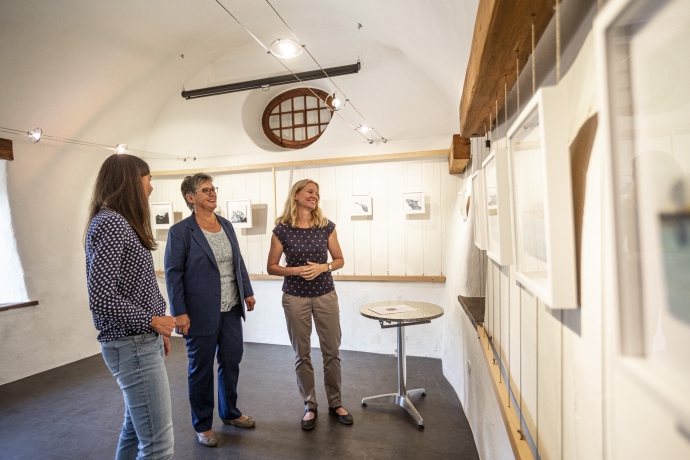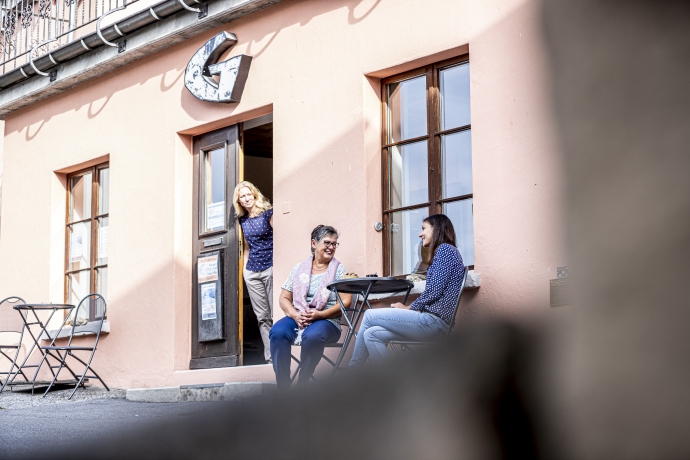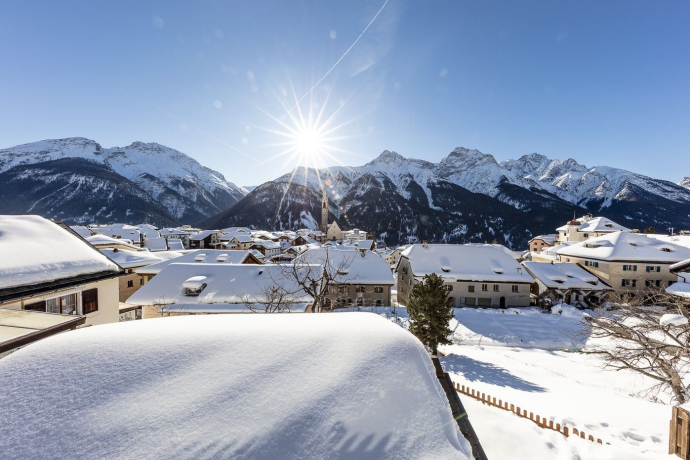 Show all 11 images