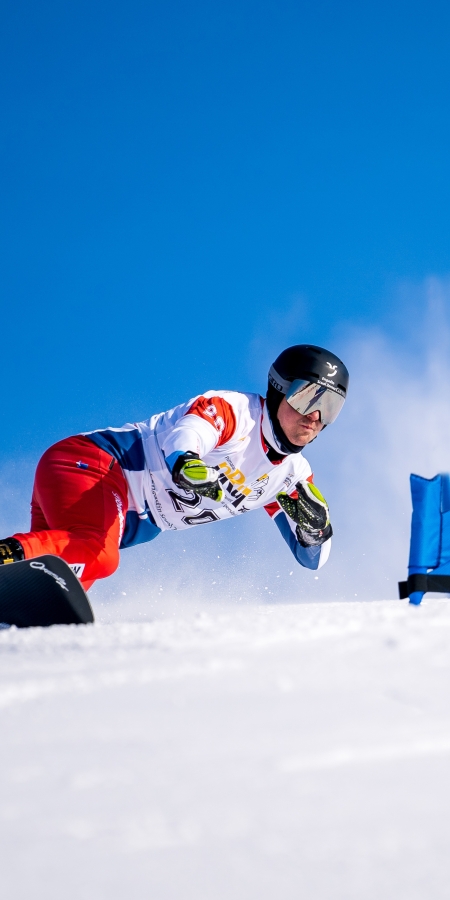 Nevin Galmarini, professional snowboarder, Olympic champion and ambassador of the holiday region Engadin Scuol Zernez, Graubünden, Switzerland
Nevin Galmarini trains even when he is at home with his family and friends in Ardez
«Of course I also train when I'm not on the road with the national team».
We wanted to know where...
«Of course, the proximity to the Motta Naluns ski area is and was a decisive factor in the success of my career. Nowhere else have I covered more kilometres on the snowboard. On the 'Motta' I learned to snowboard properly and even today I can often be found in the ski area. But the Lower Engadine also has the perfect infrastructure in terms of fitness. I regularly use the training rooms of the sports school of the High Alpine Institute in Ftan HIF and also the fitness centre in Scuol. But the most important infrastructure for me is even better and accessible to everyone: nature! The Lower Engadin has the best bike trails, the best hiking trails, the best cross-country skiing trails, etc. I can only recommend these treasures to everyone».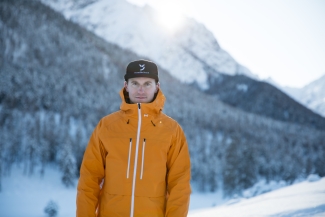 For me, alpine snowboarding is pure adrenaline: you feel the centrifugal force in the turns and can lean extremely deep into them.
Nevin Galmarini Professional snowboarder
So you are not only to be found on the board and in winter in your home in the Lower Engadine?
«No, not by a long shot. I really do a lot of sports, but apart from snowboarding, of course, I'm most likely to be found on a mountain bike. I like the versatility of 'biking' because it requires strength, endurance, courage and technique. And there are so many trails in the Lower Engadine that every biking round offers something new.
Otherwise, I like to go windsurfing and surfing, I play football and occasionally get on my cross-country skis. Actually, I'm up for anything. 
Since I'm on the snow for about nine months, from August to April, I don't really miss the snow in summer. Nevertheless, I always feel a little melancholy when another winter is over.
Between April and May is the only time I can go on holiday. I go somewhere for two to three weeks at a time. Actually, I always take my surfboard or mountain bike with me. When I get back from my holidays, I immediately start my fitness training. In May, June and July I lay the foundation for a successful season. Here, it's a matter of taking a step forward every year. I try to break the test values from the previous year in order to be even faster on the snow from August onwards».
...back to your passion, snowboarding, what should we know about the Olympic discipline Alpine Snowboarding?
«It is simply a super sport! You feel the centrifugal force in the corners and can lean extremely deep into them. The competitions are very easy to understand thanks to the parallel mode. Whoever reaches the finish line faster is one round further. This results in exciting duels where both athletes drive absolutely at the limit. If anyone is interested in learning this sport or improving their alpine snowboarding skills, feel free to contact me via carvingcamp.ch».
Nevin Galmarini
Alpine Snowboard Pro from Ardez
Date of birth: December 4th 1986
Disciplin: Snowboard Alpin; Member of the swiss national team since 2010 (Parallel Slalom & Parallel Giant-Slalom)
Club: Club da Snowboard Umblanas
Languages: German, Sign Language, English, Romansh, Italian
Credo: Combat readiness and commitment / fun and modesty
Biggest successes:
Olympic champion Pyeonchang 2018
Overall World Cup winner 2018
Grisons sportsman of the year 2018
World Championship bronze medal winner Sierra Nevada/ESP 2017
World Cup winner Rogla 2017 Olympic silver medals winner SOCHI 2014
Swiss champions 2009, 2011, 2012, 2014, 2016, 2017
5th place overall World Cup 2014/2013.