Disciplines and the FIS Snowboard World Cup Alpine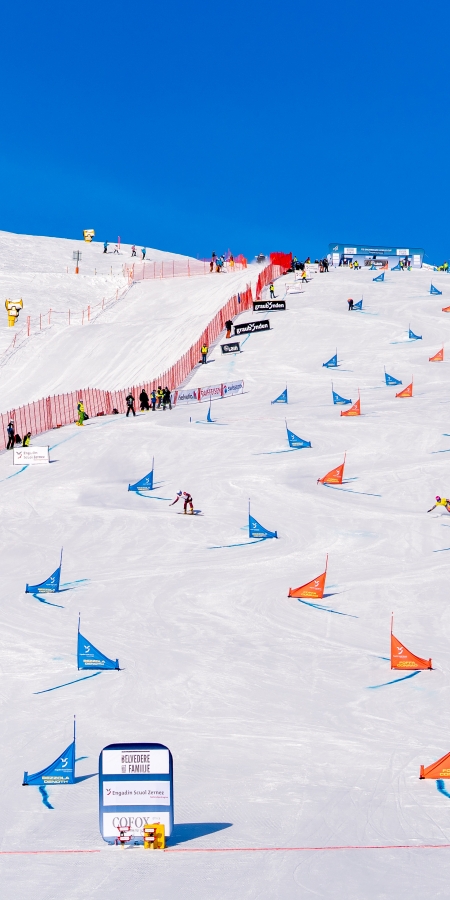 More than 100 male and female athletes from 20 nations have been competing in Scuol on Motta Naluns since 2018.
Disciplines and FIS Snowboard World Cup
In the FIS Snowboard World Cup, the riders try to score as many points as possible in all races of the season in order to be celebrated as the overall winner at the end of the season. The FIS Snowboard World Cup consists of the disciplines parallel slalom and parallel giant slalom. The main discipline for alpine boarders is the Parallel Giant Slalom. The snowboarders duel in parallel on two courses that are as identical as possible. After a run, the sides are changed to balance possible advantages. In the qualification all participants ski one time run per course. The 16 fastest go through to the final, where the competition continues in a knockout system. Parallel Giant Slalom (PGS) has been an Olympic event since 2002.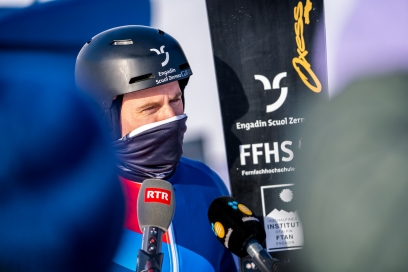 Snowboard and Scuol - a success story
Scuol has been at the center of the alpine snowboard scene from the very beginning. Already in 1987 the first snowboard school in Europe was founded in Scuol.
In 1993 Cla Mosca from Scuol became the first world champion in the sport of alpine snowboarding, and in 1997 his brother Fadri Mosca did the same. Nevin Galmarini from Ardez, the ambassador of our vacation region Engadin Scuol Zernez, crowned his career so far with two successes at the Winter Olympics and an overall World Cup victory in in the 2017/2018 season. In February 2018, he won gold in Pyongchang and became Olympic champion. Four years before that, he was rewarded for his efforts in Sochi, Russia, with the silver medal. In the women's category, a woman from Scuol is well on her way to arriving in the World Cup. Ricarda Hauser made her debut at the highest level of competition at her home World Cup 2022.
In January 2023, the World Cup will make a stop in Scuol for the eighth time and is thus a fixed component in the FIS World Cup race calendar.