How much digitization is needed?
René Fritschi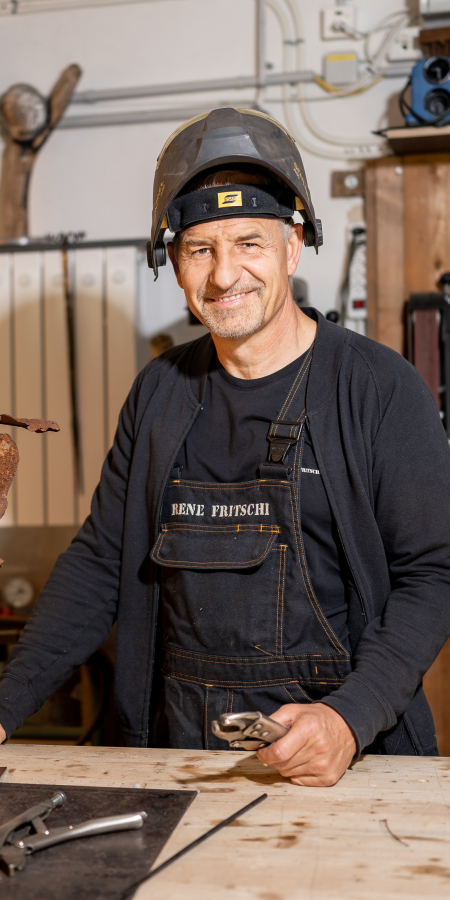 Sparks often fly with René Fritschi. The passionate craftsman and artist likes to work in his small workshop in Scuol with materials and found objects that he discovers on his mountain bike excursions in the Engadine countryside. At the same time, he is active in digitization projects at miaEngiadina and is driving forward the fiber optic connection for fast Internet in the valley.  A contradiction?
Life here in the Engadine means a lot to me. Especially being in nature and discovering beautiful things while biking. It is a place of power for me and I have realized a dream to be able to live and work here.
René visibly enjoys the Engadine. The landscape. The intact nature. The peace and quiet. He always goes on discovery tours with his bike. His favorite places are along the Inn River or in the Val S-charl. He is inspired by what he sees. And René notices things that others might not particularly notice. A striking piece of wood, a root with a special shape or a simple piece of metal in the riverbed can inspire him. In his mind, he can already see himself creating something with it in his workshop.
Sustainability is very important to René. He wants to show that you can make something new out of existing objects and thus tell a story. Working with his hands, the craft, means a lot to him. He wants to pass on this passion. That's why he also organizes seminars in which the participants learn again to make something with their own hands and with a lot of enthusiasm he conveys the joy of creating.
He also enjoys his work at miaEngiadina. When René got to know the Lower Engadine through time off, a specialist was needed to market the fiber optic network, one of miaEngiadina's core concerns. With over 20 years in project management at telecommunications companies, René had the necessary experience and has been driving digitization forward ever since.
The job market has changed. In addition to the soothing nature, there is also a need for a digital valley that is networked and in which the people of Engadin have access to the world outside.
People in the valley, whether locals or guests, can network, for example, in one of miaEngaidina's mountainHubs, modernly equipped coworking spaces for flexible working.
For René, the interplay between the two worlds, the natural and the digital, is not a contradiction. He is enthusiastic about both.  And if his head does start to smoke after an intense day at work, the "Garden of the Inn," which is the approximate translation of Engadin, is available to him for creative relaxation.  
Text & Pictures: Dominik Täuber
Video: OnAir AG