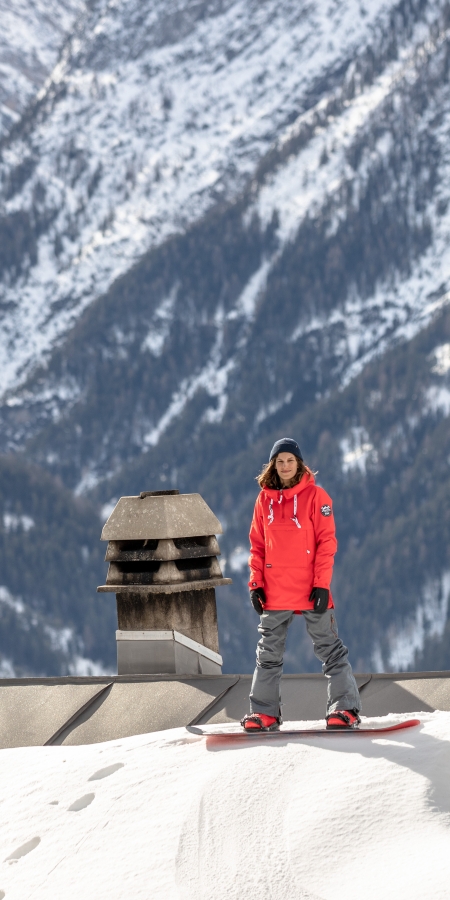 Experience the feeling of weightlessness while skiing deep snow and the creative side of snowboarding. The Lower Engadine offers a unique space to live this passion intensively and to combine it with artistic ideas.
Awareness towards nature
For many years Elena was constantly traveling from one competition to another. In the process, she achieved numerous successes. However, she increasingly questioned what she was doing: "I could see for myself that I had to do more what I wanted and not what was expected of me. Besides, I no longer felt it was right to watch the glacier melt and not change anything about my behavior."
"One of the most beautiful playgrounds right outside my front door".
Elena grew up in Vnà. She got to know the winter at an early age. Thereby she was gripped by the fascination for snowboarding. After many years in competition, Elena has now rediscovered her home and spent a lot of time in nature last winter: "I've never had so many powder days as last winter in my life!"
"Snowboarding was the ticket for me to discover the world".
Since her childhood Elena has been fascinated by this sport. When she has the snowboard on her feet, she can completely switch off, especially when she is out and about in her home country. Thanks to the sport, she has met many exciting people; many good friendships have developed over the years.
IL DAT ALB - An art and snowboard project
With the artistic staging of a construction container in the Snowpark Scuol she wants to create a space where young people are motivated for a sustainable, active and creative liftstyle. The container will be transformed into a "snowboardable" object, where the surrounding nature will be integrated and traditional sgraffito art will be processed. In addition, a new park line with various obstacles will be created, which will be built and designed according to the upcycling principle from existing materials.
Profile Elena Könz
Grew up in Vnà in the Lower Engadine
Snowboarder since she was 13 years old
Studied art and media design in Zurich
Current activities: Snowboarder, artist, coach in the Freestyle Academy in Laax.
Graubünden sportswoman of the year 2015
Greatest successes in snowboarding: 
- Big Air Snowboard World Champion 2015
- 9th place at the Olympic Games in slopestyle (Sochi 2014)
- 10th place at the Olympic Games in slopestyle (Pyeongchang 2018)
- 3rd place at the World Cup in Slopestyle (Park City 2015)
- 3rd place at the European Open World Cup in Slopestyle (Laax 2014)