Travel & Mobility - Barrier-free travel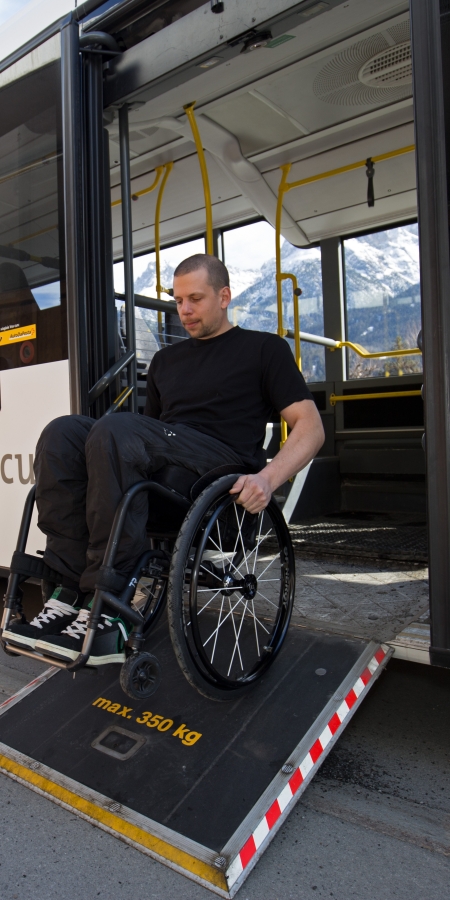 The Scuol Tarasp train station was awarded the "Golden Transport Hub" award in 2014. With the bus you can reach your destination throughout the region without any obstacles.
Tel CH: 0800 007 102
Tel International: +41 51 225 78 44
www.sbb.ch/handicap
At the SBB call center, you will receive information about your itinerary and can register for the trips. This is mandatory to guarantee a smooth transfer.
Tel. +41 81 288 65 65
rhb.ch
The RHB runs hourly from Landquart to Scuol. Please note that after 20.47 from Landquart you have no direct connection to Scuol and have to change trains in Klosters. Unfortunately, there are no low-floor cars in service on this route yet and the platform lifts can only be operated by local staff. 
Various carriages operate on the Scuol to Samedan line. In some cases, ground-level compartments can be found in the control cars. Check with RHB for up-to-date information on the connection you want. Attention: there is no platform lift in Sagliains, look for a direct connection without changing trains. 
All post buses in the region are wheelchair accessible. The buses are equipped with either a ramp or a lift. It is advisable to book trips in advance to guarantee a smooth process. 
Be careful with bus-taxis: transportation may be more difficult here. Cabs are not wheelchair accessible and require the passenger to be able to transfer to a VW bus. Electronic wheelchairs cannot be loaded. 
In summer, it is best to travel via the Flüela Pass. Alternatively, you can use the Vereina car transport. But you can also reach the region through the Arlberg tunnel or the Julier Pass. 
In winter we recommend the Vereina Tunnel, as the Flüela Pass is closed.
Road condition info phone: +41 848 800 163 / from the Swiss telephone network: 163
Car transport info phone: +41 81 288 37 37