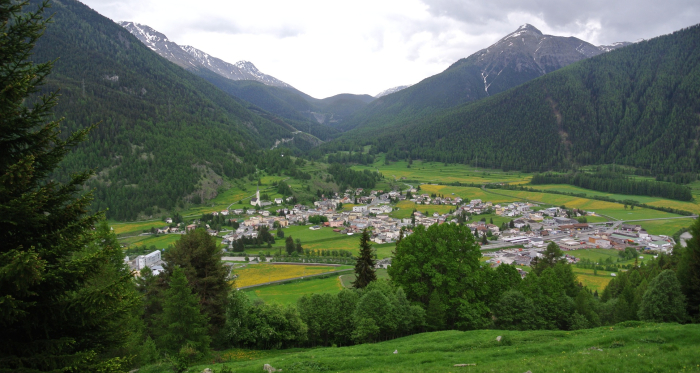 Nice varied round trip to the viewpoint over the village of Zernez. The gorge is flat and leads along the Inn to the starting point. The route is family-friendly and suitable for beginners.
---
Start
Zernez train station (1471 m above sea level.M.)
Destination
Zernez train station (1471 m above sea level.M.)
Coordinates
46.698204, 10.08975
Description
We start at Zernez station. First we go through the village towards the church and cemetery. At the height of the church we turn left onto the hiking trail towards Sivü. The trail leads uphill through the clear forest. After just over 3 km we have already achieved practically all altitude meters. Now follows a well-run path with a panoramic view of the valley and the mountains opposite. After 4.7 km we reach the clearing Sivü with some hunting huts. Now the descent begins. After 6.7 km we reach Güstizia, to German directional place. In the past, this was a place of judgment and the condemned were hung on the pillars. But there is also a nice fire pit here. Now the path turns back towards Zernez. We reach the Inn and walk past the new wave-shaped bridge (a wooden and iron structure). The last 4 km lead flat along the Inn and invite you to the final sprint. 
Geheimtipp
This tour is also family friendly, to shorten the tour, you have the possibility to walk from Sivü directly to Clüs Dadoura.
A visit to the National Park House or the family bath is recommended.
Sicherheitshinweis
The tour was evaluated in favorable weather conditions, the current weather conditions and weather forecasts must be observed before the start of the tour.
:
144 Emergency Call, First Aid
1414 Mountain Rescue REGA
112 International Emergency Call
Directions
Chastè Planta Wildenberg, God Praslönch, Sivü, La Fuorcha, Chasuot, Zernez or
Chastè Planta Wildenberg, God Praslönch, Sivü, Clüs Dadoura, Zernez