On the road with Géraldine.
Walk to the Lai Nair
Join me on an autumnal walk to the Lai Nair and marvel with me at the colourful splendour of the «Indian Summer» in the Lower Engadine.
The sun slowly rises behind the Dolomites of the Lower Engadine and gently wakes us up – a Sunday morning like something out of a picture book. In Scuol, too, the colouring has now taken its course and the forests are showing themselves in their most beautiful, golden clothes today. You are literally drawn to the outdoors.
So after breakfast we set off. Together with a friend who is visiting, I take the local bus in the direction of Tarasp. From here we continue on foot. Even the first few metres through the Tarasp Fontana part of the village delight us, because the Engadine architectural style is easily recognisable here and lends the alleys their charm. Behind you can see the picturesque forest landscape in the direction of Val Plavna and Crap Putèr.
Leaving the village, we follow a forest path up to Lai Nair. Even during the ascent, we catch glimpses of Tarasp Castle and the opposite side of the valley, towards Ftan and the Motta Naluns skiing and hiking area – a feast for the eyes. After about 20 minutes of walking, we reach a plateau. In the middle of it is the «Lai Nair», in German «Schwarzsee».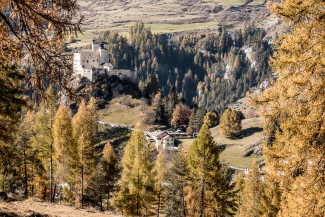 The plateau on which the Lai Nair lies can certainly be counted among the most beautiful spots in the Lower Engadine. The lake is a popular destination for hikers and mountain bikers and is ideal for a refreshing swim in summer. In addition, several fireplaces invite you to barbecue and linger. Photographers also love this spot, because the reflections in the water and the sunsets are particularly beautiful to capture here.
Today, however, we turn off before the Lai Nair, in the direction of Avrona. Instead, we hike above the lake and catch one last glimpse of the Lai Nair as it lies here in front of the mountain landscape. The autumnal scent in the air makes the moment perfect.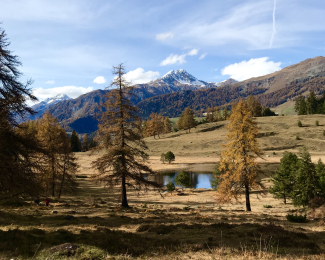 Enough amazement, our walk continues fairly level through the forest until we reach a clearing that shows us a piece of the Val S-charl valley. From here we descend to the hamlet of Avrona. We stop at the Avrona inn and warm up with a cappuccino. Even though the sun accompanies us steadily on our tour, the temperatures already foreshadow the coming winter.
From Avrona we finally tackle the descent to Vulpera and then on to Scuol. At the bottom, our cheeks are red and the sun is almost no longer visible. We are now looking forward to ending the day in the mineral baths of Bogn Engiadina Scuol and are still thinking about today in the warm mineral water and the soothing heat of the sauna.
Arrival: by PostBus
Duration: around 2.5 hours hiking time 
Equipment: shoes with good tread, warm clothing, sun and rain protection