An active association with regional anchoring
Association Pro Büvetta Tarasp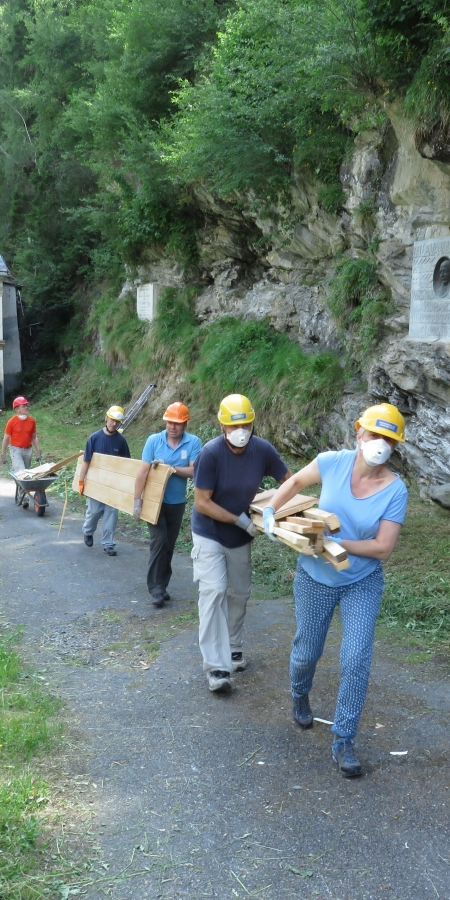 The association Pro Büvetta Tarasp, based in Tarasp, was founded in Nairs on 22 March 2012 – International Water Day. Well-known people and a broad group of supporters from politics, economy and culture have brought it into being. Pro Büvetta Tarasp is actively committed to the preservation, protection and new use of the unique historical heritage and architectural jewel.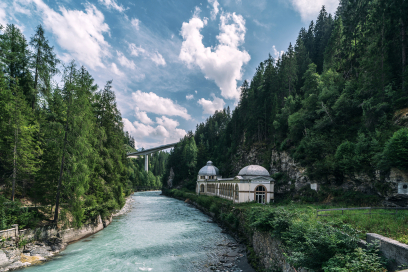 TV Südostschweiz
Drinking Hall Büvetta
«Once a place for the rich, beautiful and powerful from all over the world, now the stone and plaster is crumbling. There are cracks in the walls, which is why the Pro Büvetta Tarasp association is dreaming of renovating the Büvetta Tarasp Drinking Hall».
Südostschweiz.ch has published a Rondo News focus broadcast about Büvetta Tarasp, which takes up the current condition of the Trinkhalle, its renovation plans and history.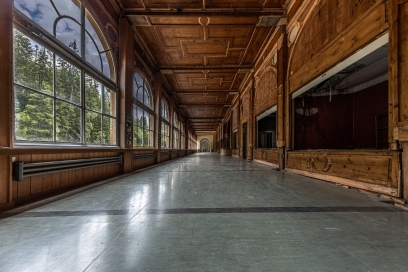 The aim of the association is to make this place of power an international attraction again: a place where science, culture and tourism merge.
Board
President: Werner Reichle, architect, Uster/Sent
Actuary: Urs Wohler, former Director TESSVM, Scuol/Spiez
Cashier: Anetta Wetzel
Committee member: Christof Rösch, artist/architect, Sent
Committee member: 

Martina Melcher, Zurich/Ftan
Further contributors
Project manager: Christian Müller, dipl. architect ETH/SIA, Zurich/Rotterdam
Secretariat: Urs Wohler, actuary, Scuol/Spiez
Members
Prof. Dr. med. Daniel Ackermann, Urologe, Scuol | Katharina Ammann, Kunsthistorikerin, Zürich | Flurin Arquint, Architekt, Susch | Dr. med. Oliver Arquint, Arzt, Zuoz | Luzius & Susi Baggenstos, Architekt, Rüti | Hansueli Baier, Chur | Esther Baldegger-Thut, Männedorf | Kurt Baumgartner, Hotelier, Scuol | Annemarie Beglinger, Mönchaltdorf | Reto Bernasconi, Unternehmer, Olten | Ruth Bernasconi, Privatière, Olten | Duri Bezzola, Scuol | Susanne Bickel, Ägyptologin, Scuol | Gaetano Bisaz, PreSales Consultant, Nassenwil | Valeria Bisaz, Ftan | Bogn Engiadina Scuol | Stefano Bolliger, Bankangestellter, Landquart | Dr. Beat Bornhauser, Wädenswil | Roland Boss, Kulturbeauftragter, Zürich | Prof. Dr. Hans Rudolf Brenner, Biologe, Riehen | Ernst Bromeis, Wasserbotschafter & Extremschwimmer, Zürich/Ardez | Andres Bruetsch, Autor/Geschichtenerzähler, Zug | Dr. oec. Publ. Anton Bucher, Küsnacht | Annette Bühler, Kunsthistorikerin, Zürich | Notta Caflisch, Künstlerin, Chur | Pia Campell, Ardez | Corina Casanova, Alt-Bundeskanzlerin, Bern/Tarasp | Dumeng-Fadri Claglüna, Dipl. Bauing. ETHZ, Zürich | Cumün da Scuol | Melchior & Ursula Däniker, Uster | Eliane & Bruno de Gennaro, Betriebsökonom, Oberägeri Roger | De Weck, Publizist, Zürich/Sent | Jon Duschletta, Zernez | Regina Egli Keller, Stäfa | Daniel Egloff, Betriebsökonom FH, Wettingen | Mathias Eichmann, Ökonom, Zürich | Prof. Dr. Angelus Eisinger, Zürich | Verena & Hugo Engeler-Müller, Zürich | Nesa Engler, Tarasp | Uwe Engler, Informatiker, Basel | Elvira & Jakob Faes, Unternehmer, Scuol | Urezza Famos, Unternehmens- & Kulturberaterin, Sent | Fanzun AG, Scuol/Chur | Christian & Seraina Fanzun, Gemeindepräsident Scuol, Tarasp | Riet Fanzun, Tarasp | Susanna Fanzun, Filmerin, Scuol | Anita Färber, Journalistin, Uster/Scuol | Dr. med. Barbara Federspiel, Ärztin, Tarasp | Marisa Feuerstein, Architektin, Scuol | Margarete Fieguth Jacot, Unternehmerin, Brügg | Mathias & Rosemarie Filli, Scuol | Letizia Fiorenza, Sängerin, Uster | Dr. med. Gian & Ruth Flury, Scuol | Dr. Kurt & Ursula Frischknecht, Dozentin, Biologe, Fontnas/Scuol | lic. iur. Christoph Fritzsche, Baujurist, Meilen | Stefan Füglister, Kampagnenberater, Zürich | Thomas Gautschi, Energieberater, Bachenbülach | Mathias Geiser, Gymnasiallehrer, Köniz | Beatrice & Markus Gerig Frehner, St. Gallen | Peter Gmür, Zürich | Gisela Göttmann, Kulturmanagerin, Chur | Cristina Gregori, Sent | Paul Grimm, Ftan | Franziska Grohmann, Scuol | Beat Gsell, Ardez | Walter Gysel, Lehrer, Zuzwil | Hans Hagenbuch, Unternehmer, Arlesheim/Scuol | Ludwig Hatecke, Scuol | Ralph Hauswirth, Bildender Künstler, Basel | Dr. phil. I, Hans-Jörg Heusser, Kunsthistoriker & Consultant, Präsident Fundaziun Nairs, Zürich | Victor Hiltebrand, Maschinenschlosser, Bülach | Martina Hollenstein, Direktorin TESSVM, Scuol | René Hornung, Journalist Chefredaktor PIZ, St. Gallen | Simon Kälin-Werth, Dipl. Natw. ETH Umweltphysiker, Zürich | Christa Kaufmann, Primarlehrerin, Bichelsee | Dr. Sabine Kaufmann Staub, Sent | Ericamaria Keller-Knapp, Kloten/S-charl | Philipp Kemmler, Chur | Dr. med. Thomas Kistler, Uster | Rainer Klostermann, Zürich | Edeltraud Knapp, Scuol | Dr. oec. HSG Oskar Knapp, Botschafter, Bern/Scuol | Werner Koch, Marketingfachmann/Dipl. Gerontologe, Weiach | Christoph Köppel, Anwalt, Winterthur | Christof Kübler, Kunsthistoriker, Fürstenaubruck | Andri Lansel, Sent | Martin Lauber, Treuhänder, Scuol | Valentin Lendi, Drechsler, Hallau | Dr. med. Bruno & Erika Lenherr-Braun, Uster/La Punt | Valeria Lenz-Tanno, Uster/Tarasp | Prof. Dr. Michael Lüthy, Kunsthistoriker, Berlin | Karin Luzi, Pflegefachfrau, Münchenstein | Ursina Margadant, Sent | Andrea Matossi, Polygraf & Wanderleiter, Scuol | Peter Meierhans, Flawil | Martina Melcher, Freischaffende Apothekerin, Naturmedizinerin, Dozentin, Lehrerin, Coach, Zürich | Prof. Dr. med. Gian & Elisabeth Melcher-Arquint, Greifensee/Zuoz | Ruth Merker, Kindergartenlehrperson, Uitikon Waldegg | Matthias Merz, Geologe, Scuol | Dr. med. dent. Daniel & Regula Meyer-Burri, Zahnarzt & Ayurveda Komplementär-Therapeutin, Kriens/Luzern | Dr. sc.techn. ETH Béatrice Miller, Lebensmittelingenieurin, Uitikon/Scuol |  Liselotte Mock-Brack, Uster/Sent | Roger Moos, Architekt, Uster | Marion Mühlebach, Schauspielerin & Sängerin, Wetzikon | Christian Müller, Dipl. Architekt ETH/SIA, Zürich/Rotterdam | Curdin Müller, Schreinermeister, Martina | Marco Müller, Ingenieur, Scuol | Ulrich Müller, Dipl. Bankfachmann, Hergiswil | Walter & Renata Münch, Wädenswil | Tom Munz, Architekt, St. Gallen/Vnà | Christoph Niedermann, Zürich | Brigitta Ottiker, Einsiedeln | Urs Padrun, Architekt, Guarda | Armon Parolini, ehem. Lehrer, Scuol | Dolores Parolini, Brail | Dr. Jon Domenic Parolini, Regierungsrat, Scuol | Diana Pavlicek, Kunsthistorikerin, Zürich | Reto Pedotti, Ftan | Andri Planta, Sent, Coaching & Beratungen | Rut Plouda, Ftan | Valeria Plouda Beer, Ftan | Werner & Dorothee Reichle, Architekt, Uster/Sent | Prof. Dr. Peter Rieder, Dipl. Ing. Agr. ETH, Greifensee | Simon Rohner, Lavin | Karsten Rohweder, Informatiker, Scuol | Christof Rösch, Kunst/Baukunst, Sent | Mario Rutz & Anita Ricklin Rutz, Greifensee/Scuol | Jürg Schäfer, Sent | Stefan Schäppi, Bauleiter, Horgen | Andrea Schär, Archäologin KT. Aargau, Bözberg | Dr. med. Domenic Scharplatz, Kulturarchiv, Thusis/Martina | Philipp Scherer, Bauingenieur, Luzern | Michael Schläpfer, Historiker, St. Gallen | Fernand & Doris Schlumpf, Uster | Markus Schmid, Meier-Zosso AG, Uster | Urs Schmid, CEO Passugger Mineralquellen, Passugg | Philip Schmidt, Textilveredlungstechniker, Frauenfeld | Robert Schneider, El. Ing. ETH, Winterthur | Beat Schönenberger, Gerichtspräsident, Basel | Yvonne Schuler, Umweltingenieurin, Seelisberg | Cordula Seger, Kulturwissenschafterin, St. Moritz | Dr. med. Rudolf & Marietta Semadeni, Davos/Uster | Marianna Sempert, Scuol | Marco Sieber, Wissenschaftlicher Mitarbeiter, Diepoldsau | Paul Solèr, Tarasp | Daniel Sommer, Maur | Andy Stahel, Unternehmer, Zürich | Paul Stähli, Kreuzlingen | Anton Stecher, Tarasp | Karl & Elsbeth Steffen, Architekt, Bonstetten | André Steinauer, Gross | Christina Steinauer, Gross | Steinauer Kanalservice AG, Einsiedeln | Dr. h.c. Georg Steinmann, Bildender Künstler & Musiker, Bern | Claudia Stricker, Maisprach | Jon Peider Strimer, Architekt, Ardez | Markus Sulzer, Winterthur | Dominik Täuber, Tourismusfachmann/Fotograf, Scuol | Martin Tschamun, Oftringen | Adrian von Kaenel, Rechtsanwalt, Auslikon/Madulain | Claudia Vontobel, Wirtin/Wasser-Sommelière, Ftan | Michael Voss, Musiker, Bever | Reini Walder, Werber, Uster | Elisabeth Wandeler-Deck, Autorin, Zürich | Barbara Weber, Greifensee | Michael Wehrli, Unternehmer, Zürich | Corinne Wenger, Fachspezialistin interne Kommunikation, Münsingen | Cla Werro, Architekt, Winterthur | Daniel Wiedenkeller, Historiker/Mittelschullehrer, Wermatswil | Urs Wohler, Direktor Niesenbahn AG, Scuol/Spiez | Dr. phil.-nat Roland Wyss, Geologe, Frauenfeld | Dr. phil. Jochen Ziegelmann, Wissenschaftlicher Referent und freier Autor, Berlin | Heidi & Martin Zinnenlauf, Stäfa | Silvia Zollikofer-de St. Jon, Ossingen | Sibylle Züst, Niederteufen