On the road with Sarah
Autumn hike in the National Park: from Tarasp into Val Mingèr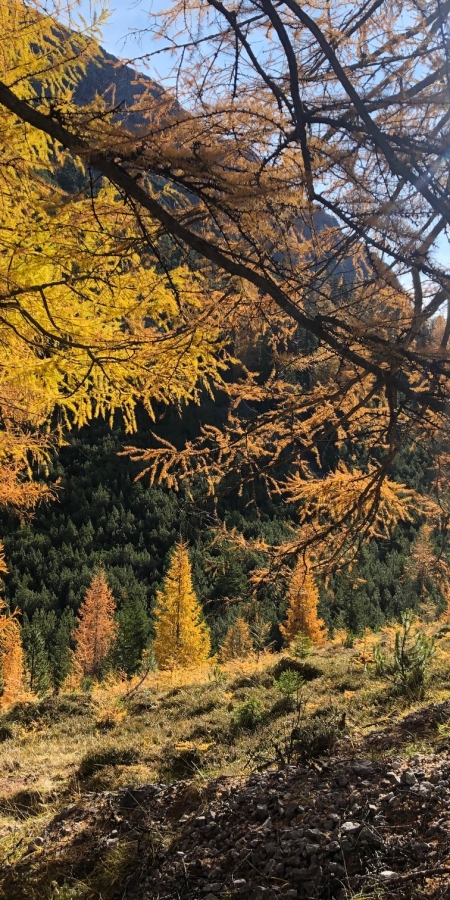 Accompany me through the beautiful autumn landscapes in Val Plavna, past golden larches, alpine huts and white mountain peaks, to the National Park in the original Val Mingèr.
It is the end of October and a beautiful autumn day. We start our hike in Tarasp. We have about 18 km and a good 1000 metres of ascent ahead of us. Right at the beginning we pass the Lai da Tarasp, which lies at the foot of Tarasp Castle. The white mountain peaks, which are still far away, are reflected in it. We start walking in their direction and follow the signposts with the inscription «Mingèr». We pass Tarasp-Fontana with its old Engadine houses and then climb steadily through the forest along the Plavna stream. At Resgia Plavna we enjoy the beautiful rest area with its carved wooden figures and a water feature. There is the start of the dwarf trail «Via dals Nanins», which is very popular with families.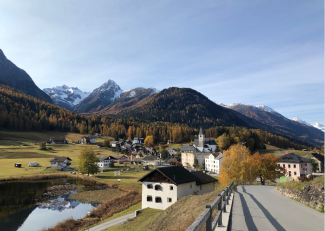 We continue through the idyllic forest. No matter where you look, there is a wonderful autumn backdrop. Golden yellow larches, stone pines, pines and in the distance the peaks of various mountains such as Piz Nair, Piz Zuort or Piz Pisoc. On this wonderful path, where you normally only meet a few people, there are a few people on the way today who don't want to miss the great weather. Be it to take beautiful autumn photos, to enjoy the sun or to go hunting.
At an altitude of 1900 metres, the forest line ends and we continue through a scree plain to Alp Plavna, where we take a first, short rest. In summer, the hut is open to the public and offers a nice little menu. We have brought our own food and have a snack before we start the ascent. From the alp we climb towards Sur il Foss up to 2300 m above sea level. The sun is still shining, but some clouds have appeared and it is now very windy. We are glad to have packed our warm jackets.
At the top of Sur il Foss we cross the border into the National Park. We descend to the official rest area at Alp Mingèr, where we take a second break. From here we can observe a group of chamois with binoculars opposite. In 1904, the last free-living bear in Switzerland was shot in Val Mingèr. It is a beautiful valley, in comparison the Val Plavna is much rougher. The paths lined with pine and mountain pine forests are easily accessible and therefore popular with young and old.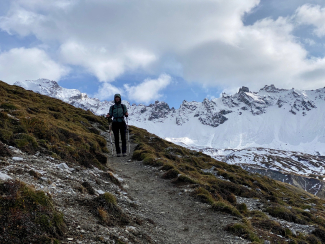 We continue our descent, once again passing incredible autumn scenery. The weather has also become friendlier again. After a good 4.5 h we arrive at the Val Mingèr bus stop and happily take the post bus towards Scuol. It is the last day of the season on which the Postbus runs the course to S-charl. In November, you can alternatively arrive by car, park it in Mingèr and tackle the hike to Sur il Foss and back. Or you can hike from Tarasp to Alp Plavna and back via the Zwergenweg. Both hikes are very scenic and highly recommended, especially in autumn.
Getting there: by PostBus or car to Tarasp Fontana (parking spaces available)
Duration: around five to six hours hiking time 
Equipment: shoes with good tread, warm clothing, sun and rain protection, food, binoculars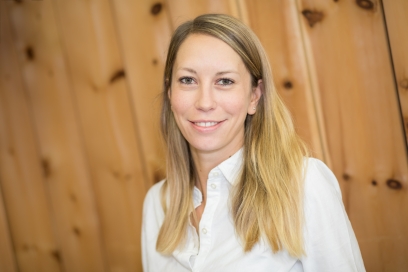 Sarah Hofer has lived in Scuol since 2018 and works as Head of Guest Information for the Engadin Scuol Zernez holiday region. In her free time she likes to be out in nature, either on foot, on her bike or in winter on her snowboard.