Engadine crafts for everyone
Heidi Laurent - Domenig und Lidia Domenig-Etter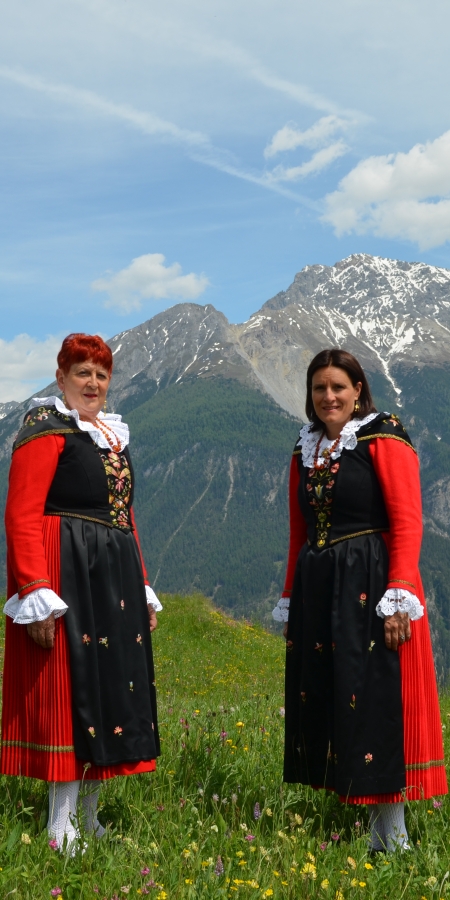 In the unique store "Butia Schlerin" in Sent you can immerse yourself in a variety of handmade products made of ceramics and fabric. What they all have in common is the decoration with the so-called "sgraffiti". This decoration technique arrived in Switzerland in the 16th century and since then has decorated many houses in the Engadin and the rest of the Grisons. Therefore, there is no question that Heidi Laurent-Domenig has a great fascination for it: "It is an important Engadine and Swiss cultural asset, long forgotten! Because every symbol has its meaning and according to historians, these have come to us from all over the world and have consolidated here ".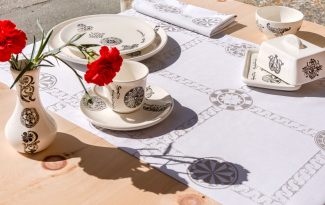 From hobby store to Sentner Keramikesel
Originally, the current craft and sales store with café was a handicraft store. This had become obsolete over time, the day for a new beginning approached. Already since 1995 much revolves around ceramics and the expertise of 40 years of Lidia contributed the rest. Then in 2016 they launched their exclusive brand SGRAFITS ENGIADINAIS. This consists of fine ceramics and high quality woven jacquard cotton fabric.
However, it was not only to create products for sale, Heidi and Lidia wanted more - to offer courses for everyone/woman/*, so that everyone can immerse themselves in the fascination of "Sgraffitos". They wanted to offer an experience, around the ceramic and the sgraffito art, moreover it was completely new that sgrafitti could suddenly be found on ceramics and so could be taken home.
The first product of the Butia Schlerin was the Sent donkey, and this more than 10 years ago. This Sent donkey also has a historical background. Each community in Lower Engadin is assigned an animal, and in the case of the Sentners it is the donkey.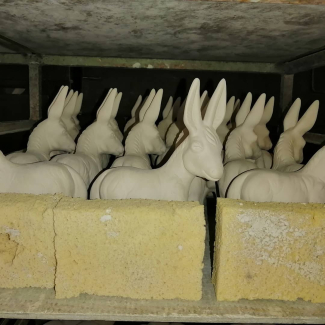 But for the combination of ceramics and "sgraffiti" it was a long way: "How do we get these beautiful symbols on our ceramics?" The criteria were defined and in a few sleepless nights the stamping technique was born. Sgrafitti are collected, evaluated and pre-drawn in order to produce stamps. But now Heidi and Lidia were faced with the next task to be solved: How to create a usable stamp that adapts to the material and the situation? The two ladies worked on this for two years until they had a satisfactory result in front of them. Since then, many new stamps have been added, which are used for sales products as well as for courses.
During this time the company Tisca Tischhauser became aware of the two ladies. With great interest the exclusive fabric line with Sgraffiti was created, this is woven in the Jacquard technique and consists of 100% cotton. The fabric is produced exclusively for Butia Schlerin and the product range continues to grow. So now over 40 products endstanden from napkins, table runners, tablecloths and even curtains to the hygiene mask.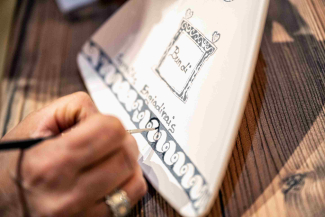 Inspiration from home and family
Heidi doesn't get inspiration for new designs and products in a certain place or at a certain time. It is much more important to her to go through the world and everyday life with open eyes. Sometimes new ideas come in everyday situations or her two children approach her with exciting questions from kindergarten and school. For example, three years ago, the entire bar in the café and the packaging became plastic-free. Ideas also come from conversations with customers and friends, which are then tried out. Most of the approaches were successfully implemented because the gut feeling was allowed to help decide.
"What was your marketing plan?" - "We started small and started with a standard range. Now we keep expanding and listening to our customer needs and gut feeling. So far, we have not been disappointed!"
Genuine handmade from Sent
Before a product is ready in the store, it is handled between 20 and 30 times by a team of four. The ceramic products are manufactured in Sent. After creation, the blanks are fired for 24 hours at 980 degrees. Then the products can be worked on by the four women - no two products are alike. The "work" requires a high degree of concentration and is still a great pleasure, after all, they are working on a valuable product that is sustainable for a long time. The finished blanks are then glazed and fired for another 36 hours. Meanwhile, in the store in Sent are a variety of different products made of ceramics, which are all unique in their own special way.
The great success and also the recognition then came when Heidi Laurent-Domenig won the award for the Graubünden Young Entrepreneur in 2019. This still makes the women especially proud!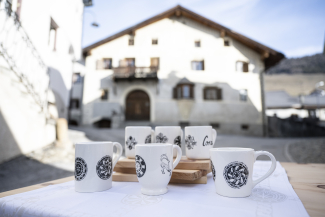 Scarf Uorsin became hygiene mask Burtel
In 2020, an Engadine neckerchief called Corsin was in the planning stage. A large customer wanted an Engadine neckerchief with sgraffiti for the Asian market. The women had already commissioned the design and also the fabric and production was underway. But as it is in life, some things turn out differently than expected. The order was canceled, the warehouse was filled. A few weeks later the idea came up to use the fabric for a hygiene mask. After some clarifications "Burtel" was born. After the offer went online, it was sold out in a few days. They were completely surprised by the demand.  Today, however, Uorsin is available in two sizes and even with a QR code for learning Romansh.
Viva la Grischa - and see you soon in Sent!
Text: Chantal Mayor
Pictures: Chantal Mayor, Dominik Täuber and Mayk Wend
Impressions of the Butia Schlerin in Sent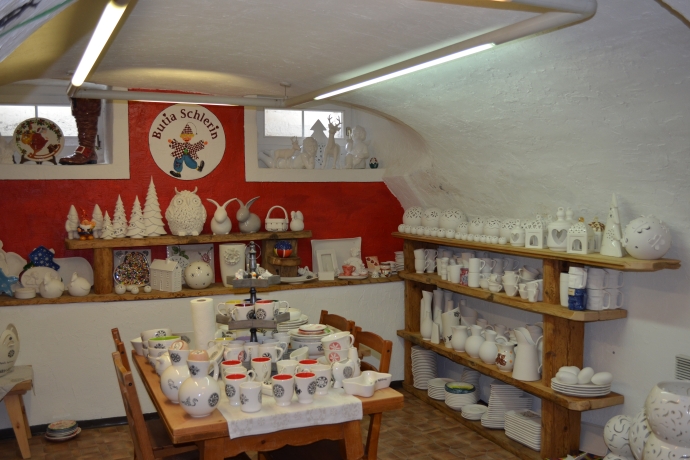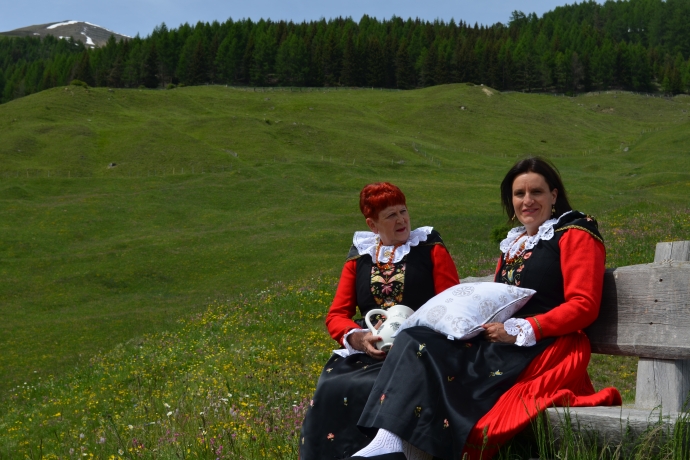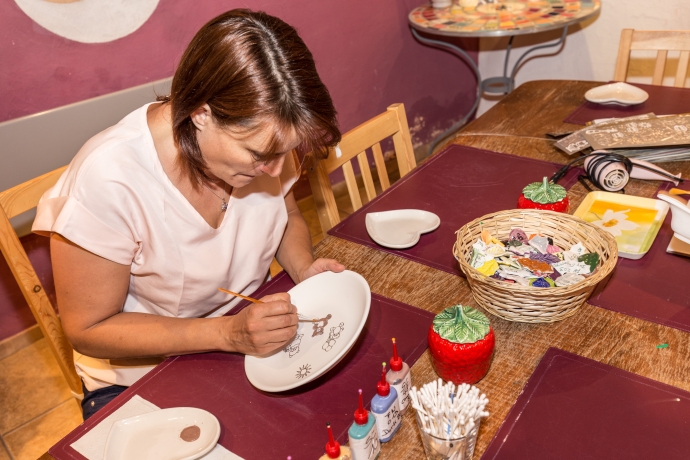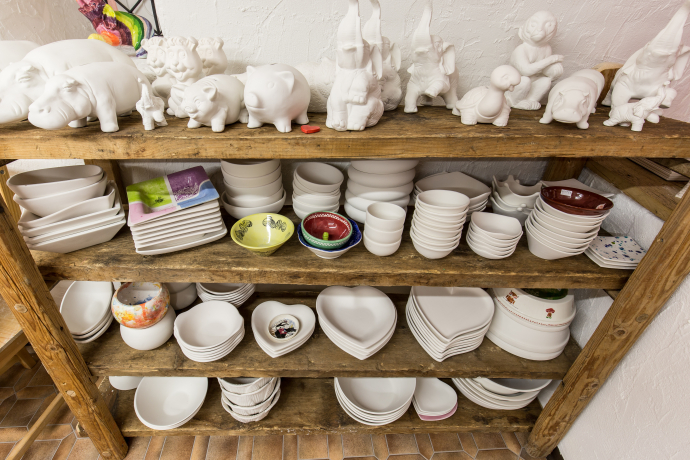 Show all 6 images