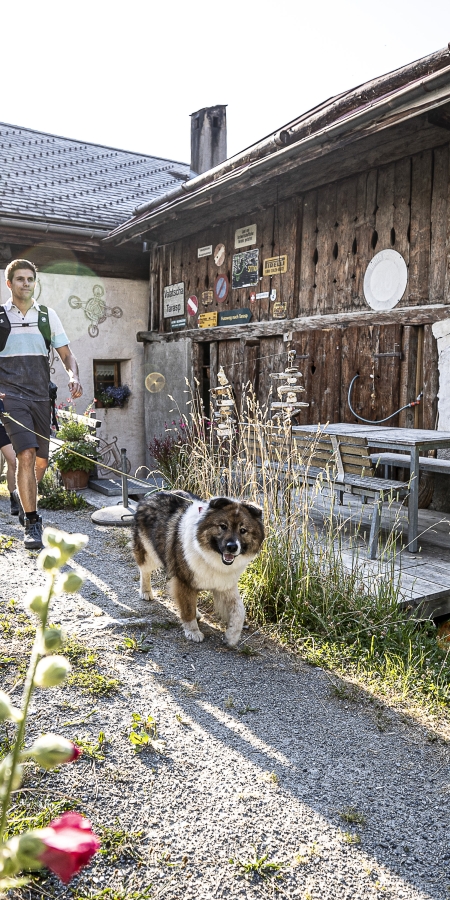 Dogs are always welcome in the Lower Engadin. You will find numerous dog-friendly hiking trails, hotels, restaurants & excursion for holidays with dogs.
Useful information for dog owners
Mountain railroads & public transport
From your first overnight stay you get free public transport during your stay in the Lower Engadine. Your dog also travels free of charge on public transport and mountain railroads. You also benefit from free and discounted vacation experiences.  
Fireworks ban
In the fractions of the municipality of Scuol (Scuol, Ftan, Sent, Ardez, Guarda) there is a ban on any burning of firecrackers, fireworks and other pyrotechnic objects according to Art. 16 Para. 1 of the police law. So you can enjoy holidays without noise with your four-legged friends.  
Breeding- and sowing season
In the spring months (usually from the beginning of April to the end of July) many wild animals have their offspring. We ask you to take special care during this time that your dog stays in the forest in their immediate vicinity and neither disturbs nor chases the wild animals.
Mother cow herds & guard dogs
Always leash your dog on alpine pastures with herds of mother cows and go around the herd slowly and quietly. Plan hikes with your dog so that you do not encounter guard dogs. If it does happen, never cross a herd protected by guard dogs with your dog. If it is not possible to go far around, you should turn around.
Swiss national park
IDogs are prohibited in the Swiss National Park; even on a leash. Violations will be fined. The SNP is one of the best protected areas in the Alps. Adhere to the protection regulations and help to preserve this unique nature reserve.