Mountaineering a little different
JST - Mountaindrive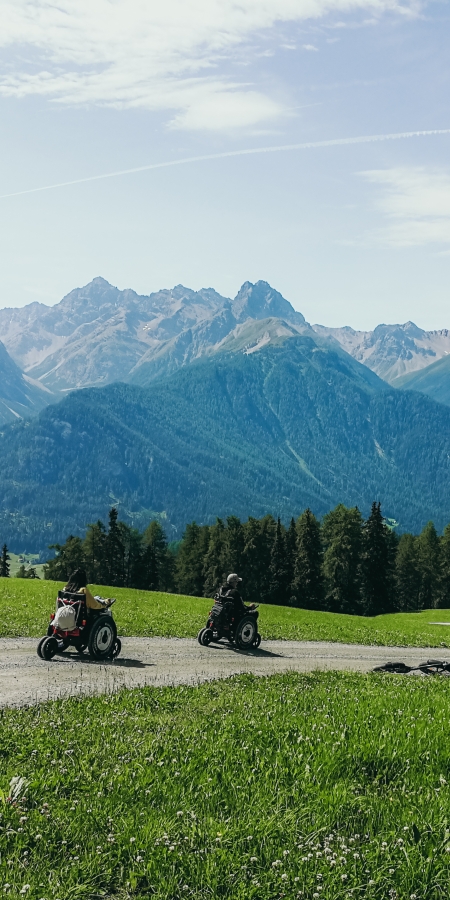 The JST - Mountaindrive all-terrain wheelchair opens up completely new perspectives of mobility. Hiking trails that are considered impossible with a hand wheelchair are pure pleasure with the JST!
Thanks to the Cerebral Foundation, two JST - Mountaindrive wheelchairs could be purchased in Scuol. The wheelchairs are available at the valley station of the mountain railroad Scuol Motta Naluns in Engadin Adventure. All bookings and requests for availability of the wheelchairs should be looked at directly with the Engadin Adventure:
Phone: +41 81 861 14 19
Mail: adventure@bergbahnen-scuol.ch
The mountain railroad is also the starting point for one of the best tours in the region. The mountain railroad takes you barrier-free up to Motta Naluns and via Ftan back to Scuol. On this tour, wheelchair users get their money's worth. The wheelchair maneuvers the terrain effortlessly and the view can be enjoyed to the fullest.
The range of the wheelchair depends very much on various factors. These include the daily temperature, the altitude meters but also the driving style and the weight of the driver. We have designed the tours so that the battery life brings you safely back to the starting point.
Attention the JST tempts you very quickly to deviate from the tours and explore the Engadine on your own. Please always consider the way home!