Up high with the wheelchair.
Barrier-free hiking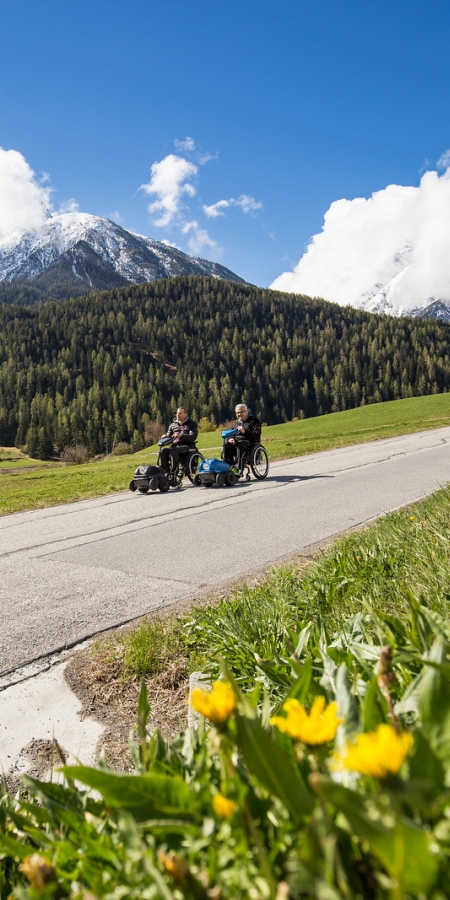 Hiking in the Engadine means moving around in untouched nature. Unfortunately, not everything in the mountains is wheelchair accessible, but here you will find all the information you need to get around as barrier-free as possible. Enjoy the proximity of meadows, forests and winding rivers on selected hiking trails.
A mountain region like the Engadine offers great views and of course also a number of obstacles for a wheelchair. On this page you will find all the information you need to get your wheelchair around or over the stumbling blocks and make your excursion a positive experience.
The Via a l'En, the Inn Trail, is our top hike in a wheelchair:
JST Mountaindrive Wheelchairs
Thanks to the Stiftung Cerebral, two JST Mountaindrive wheelchairs have been purchased in Scuol. The wheelchairs are available at the valley station of the Scuol mountain railways at Engadin Adventure. For bookings and enquiries about the availability of the wheelchairs, you can contact Engadin Adventure directly:
Tel. +41 81 861 14 19
adventure@bergbahnen-scuol.ch
engadin-adventure.ch
The mountain railway is also the starting point for one of the best tours in the region. The mountain railway takes you barrier-free up to Motta Naluns and back to Scuol via Ftan. All wheelchair users get their money's worth on this tour. The wheelchair manoeuvres the terrain effortlessly and the view can be enjoyed to the full.
To the tour
The range of the wheelchair depends very much on various factors. These include the day's temperature, the altitude metres, but also the driving style and the weight of the person in the wheelchair. We have designed the tours so that the battery life brings you safely back to the starting point.
Attention: The JST very quickly tempts you to deviate from the tours and explore the Engadine on your own. Please always think about the way back!