High up with the wheelchair
Hiking trails - Barrier-free travel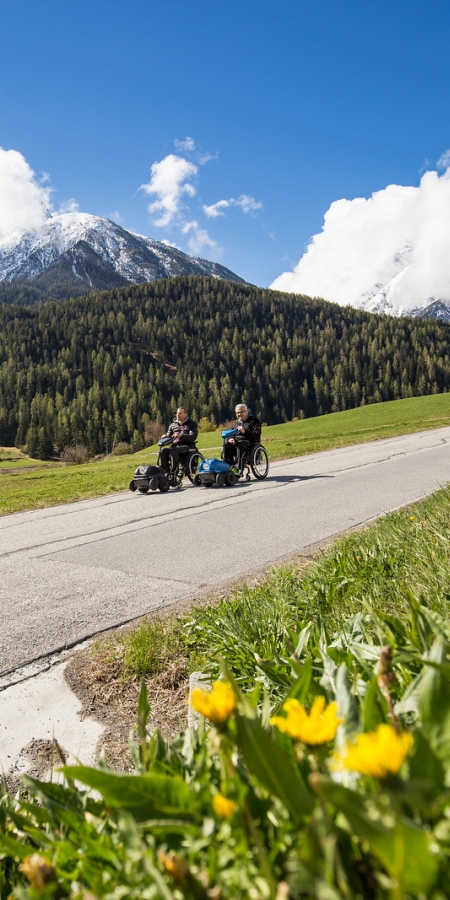 Hiking in the Engadine means moving around in untouched nature. Unfortunately, not everything in the mountains is wheelchair accessible, but here you will find all the information you need to get around "barrier-free". Enjoy the proximity of meadows, forests and winding rivers on selected hiking trails.
A mountain region, like the Engadin, offers besides great views of course also quite a few hurdles for a wheelchair. On this page you will find all the information you need to get your wheelchair around or over the stumbling blocks and make the excursion a positive experience.
The Via a l'En, the Inn Trail, is our top hike in a wheelchair
Dank der Stiftung Cerebral konnten in Scuol zwei JST – Mountaindrive Rollstühle angeschafft werden. Die Rollstühle stehen an der Talstation der Bergbahn Scuol Motta Naluns im Engadin Adventure bereit. Alle Buchungen und Anfragen zur Verfügbarkeit der Rollstühle sollte direkt mit dem Engadin Adventure angeschaut werden:
Tel: +41 81 861 14 19
Mail: adventure@bergbahnen-scuol.ch
Die Bergbahn ist gleichzeitig der Ausgangspunkt für eine der besten Touren in der Region. Mit der Bergbahn geht es barrierefrei bis auf Motta Naluns und über Ftan wieder zurück nach Scuol. Auf dieser Tour kommt man als Rollstuhlfahrer voll auf seine Kosten. Der Rollstuhl manövriert das Terrain mühelos und die Aussicht kann in vollen Zügen genossen werden.
Die Reichweite des Rollstuhls hängt sehr stark von verschiedenen Faktoren ab. Dazu zählen unter anderem die Tagestemperatur, die Höhenmeter aber auch der Fahrstiel und das Gewicht des Fahrers. Wir haben die Touren so gestaltet, dass die Akkulaufzeit Sie sicher an den Ausgangspunkt zurück bringt.
Achtung der JST verleitet einen sehr schnell dazu von den Touren abzuweichen und das Engadin auf eigene Faust zu erkunden. Bitte bedenken Sie immer den Heimweg!