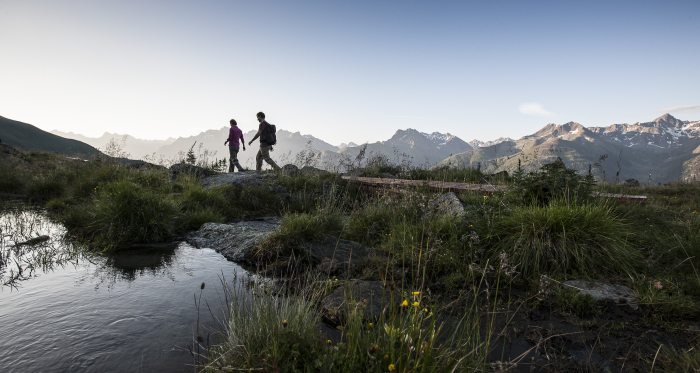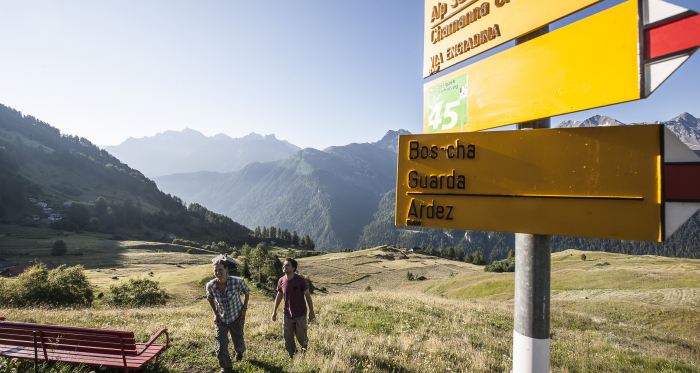 Show all 7 images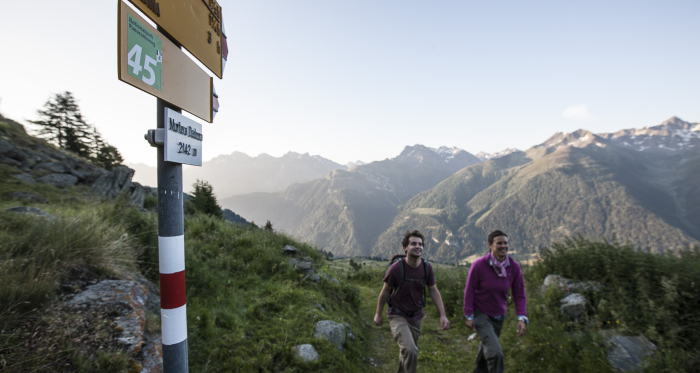 High-altitude and promising tour from Guarda via Alp Sura to Chamonna Cler and over the Maiensässe from Munt to Ardez.
---
Start
PostBus stop Guarda, cumün
Destination
Ardez Railway Station
Coordinates
46.775547, 10.152448
Description
From the centre of Guarda to the north, the reservoir goes right to the picturesque lake "Lajet". Here you climb up the small stream on a direct way to the forest border to the entertained Alp Sura. To the east, the trail leads slightly upto Murtera Dadoura, where it turns left towards Maranguns. There is a steady view of the three-thousand-metre peaks on the opposite side of the valley and into the Lower Engadine side valleys of Val Zeznina, Val Nuna and Val Sampuoir. In the valley Ardez, Bos-cha and Sur En d'Ardez are visible, while from a certain height the view to the south reveals some of the 20 or so mountain lakes of Macun in the national park. From Maranguns, take the last step – with a recommended detour to Lai Ruduond – to Chamonna Cler, the highest point of the hike.
The descent over the south-eastern ridge of Piz Cotschen to Muot da l'Hom gives the view from Scuol to Susch. Via Mundaditsch you descend to the end point of the hike to Ardez.
Schellen-Ursli-Drehorte: vorcredits and Alp
The Schellen Ursli film begins at Lai Raduond as Uorsin walks up the slope with her geisses and the camera pans up and the panorama of the Lower Engadine mountains becomes visible.
The Sommeralp is the Alp Murtera Dadoura, which lies east of Alp Sura. A backdrop was added for the film. The picture from the film does not correspond to the actual alp as it can now be seen again. 
All filming locations of the Schellen-Ursli film can be found here.
Sicherheitshinweis
The tour was evaluated in favorable weather conditions, the current weather conditions and weather forecasts must be observed before the start of the tour.  
This hike requires an elementary alpine experience, orientation skills, hiking boots are recommended.
Emergency call:
144 Emergency call, first aid
1414 Mountain rescue REGA
112 International emergency call
Directions
From the centre of Guarda to the north to Lake Lajet
Follow the stream via Clüs to Alp Sura
In an easterly direction to Murtera Dadoura
Turn left to Maranguns
Ascent to Chamonna Cler
Abstieg over the southeast ridge of Piz Cotschen to Muot da l'Hom
Via Muntaditsch and Chöglias to Ardez