Supertrail Ride in Scuol - Werni's insider tip!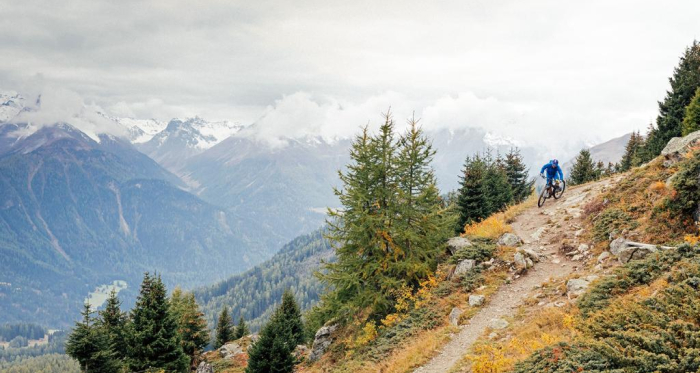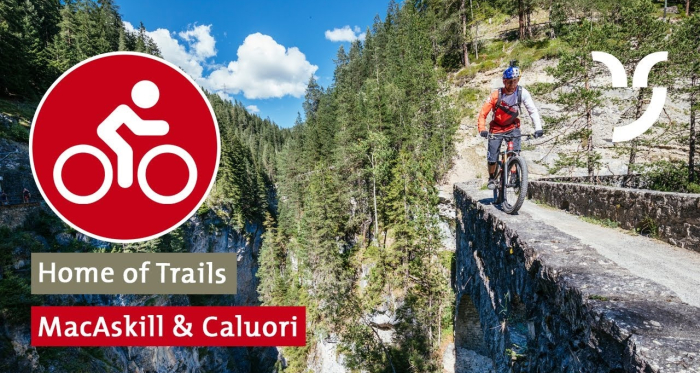 Show all 11 images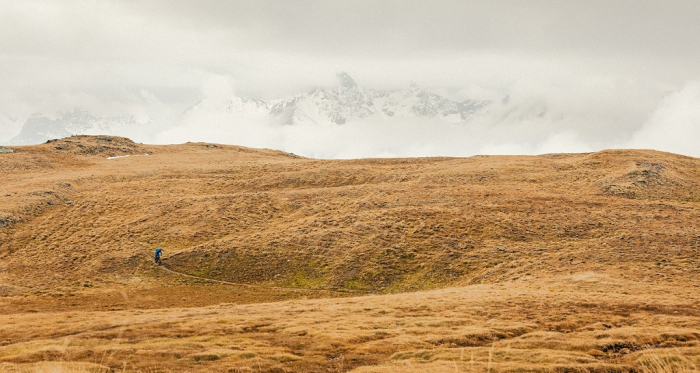 Long and thrilling singletracks characterise this scenically beautiful mountain bike tour on Scuol's local mountain.
---
Start
Valley station Motta Naluns (near train station Scuol-Tarasp)
Destination
train station Scuol-Tarasp
Coordinates
46.811, 10.272776
Description
Taking the cable car from Scuol to the top station Motta Naluns provides an opportunity to ascend the first 850 metres fairly quickly, from here, there's another 300m ascent by bike. For those with the energy and willpower, it is also possible to bike up via Ftan and Prui.
Coming over Alp Clünas, you pass Muot da l'Hom, where you can enjoy a magnificent view of the valley and the mountains opposite, predominantly, Piz Lischana and Piz Pisoc. Then follows a long flowing section of singletrack, running along a steep slope. Despite the impressive sight of Tarasp Castle in the distance, absolute concentration is necessary here as the trail becomes more challenging as it snakes past jagged rock formations and is obstructed in parts by natural obstacles.
At the mountain restaurant Prümaran Prui you can have a bite to eat and recover. From here on, various singletracks lead down to Ftan, passing overgrown rocks and winding through fairytale forests. If you like switchbacks, you can take a singletrack down to the River Inn and follow the river all the way back to Scuol.


HOME OF TRAILS 
Incidentally: In the «Home of Trails» video, the Scottish bike star Danny MacAskill cannot resist jumping from the new to the old stone bridge in Val Tasna. Below him: a wild mountain stream. Beside him: an impressed Claudio Caluori.
Geheimtipp
The detour from Ftan in the direction of Ardez to the bridge Pra da Punt is certainly worthwhile – with a surprise awaiting every biker.
Sicherheitshinweis
Please note that this mountain bike tour was evaluated during favourable weather conditions. It is mandatory to check the current weather conditions and weather forecasts before beginning the tour. This tour requires sufficient physical dexterity, ability and balance, and the necessary technical knowledge for safe mountain biking.
Emergency Services:
144 Emergency Services, Medical Assistance
1414 Mountain Rescue REGA
112 International Emergency Services
It is imperative to exercise caution and consideration when crossing intersections and overtaking hikers.
The Grisons mountain bike routes are largely based on singletracks which are also marked as hiking trails. As a rule, hikers have right of way.
Directions


train station Scuol-Tarasp (1286 m)


mountain station Motta Naluns (2149m)


Alp Clünas (2432)


Muot da l`hom (2502m)


Alp Laret (2205m)


Prui (2063m)


Plan dal Saut (1820m)


Ftan Hochalpines Institut (1714m)


bridge Pra da Punt (1571m)


Ftan Pitschen (1644m)


train station Ftan Baraigla (1334m)


Nairs (1191m)


train station Scuol-Tarasp (1286 m)