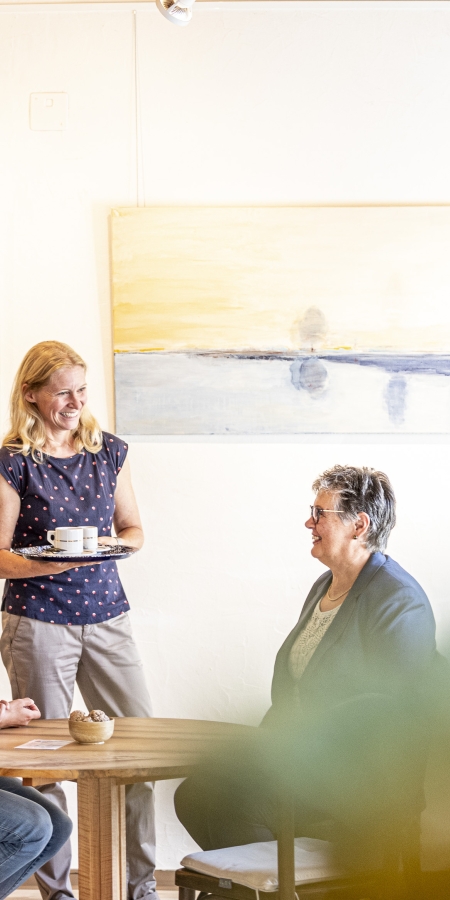 «Il rumantsch», Rhaeto-Romanic is one of the four national languages of Switzerland and is spoken mainly in the canton of Graubünden, including the Engadine. The Lower Engadine cultivates the idiom «Vallader» – a language that sounds like music to the ears. See for yourself!
At a glance
The Rhaeto-Romanic language
Switzerland's fourth national language
Romansh is the fourth official national language of Switzerland. Around 35,000 Graubünden residents speak Romansh, in various dialects and official idioms. Due to the former remoteness and independence of the Graubünden valleys from each other, the five idioms Sursilvan (Vorderrhein), Sutsilvan (Hinterrhein), Surmiran (Oberhalbstein, Albula), Puter (Oberengadin) and Vallader, spoken in the Lower Engadin and Val Müstair, have developed.
Rumantsch Grischun
The administrative burden of five different, officially recognised idioms compared to the small proportion of Romansh speakers in the Swiss population as a whole led to the drafting of guidelines for an «all-Federation Romansh written language Rumantsch Grischun» as early as 1982. Since then, the introduction of Rumantsch Grischun as an official language and language of instruction has repeatedly led to discussions and differences between supporters and opponents of the written language. The main goal remains to preserve the Romansh language as a living cultural asset that promotes identity.
On site
The Romansh language is spoken, lived and cultivated in the Lower Engadine. As an integral part of the regional culture, however, it is not only found in songs and books but also everywhere on the street and at school. For example, it is compulsory to name shops and companies in Romansh. Romansh is still the only language of instruction at school until the end of the second grade. After that, German is learned as the first «foreign language» and later French, English (from 5th grade) or Italian. Publicly, Romansh (Rumantsch Grischun and/or individual idioms) is used in addition to general use, as the language and subject of instruction, as well as for inscriptions in regional media and publications.
Examples of Romanesque media
Experience & learn the Romansh language
In order to learn the Romansh language, there are various possibilities and assistance. We recommend:
Lia Rumantscha, the umbrella organisation for the promotion of the Romansh language and culture, including online shop for Romansh literature and music. Further information at liarumantscha.ch
    
Pledari Grond, the large online dictionary for Rumantsch Grischun and the individual idioms. Further information at pledarigrond.ch
Everyday expressions in the idiom «Vallader»
| | |
| --- | --- |
| allegra | «grüezi», good day |
| a revair | goodbye |
| bun di | good morning |
| buna saira | good evening |
| buna not | good night |
| bellas vacanzas | nice holidays |
| grazcha fich | thank you very much |
| bun viadi | have a good trip |
| il bogn | the bath |
| l'abitaziun | the flat |
| la bacharia | the butchery |
| la banca | the bank |
| la butia | the shop |
| la furnaria | the bakery |
| la garascha | the garage |
| la posta | the post office |
| l'ospidal | the hospital |
| l'ustaria | the restaurant |
| la via | the road |
| na | no |
| schi/hai | yes |
| s-chüsa | sorry |
| lündeschdi | Monday |
| mardi | Tuesday |
| marcurdi | Wednesday |
| gövgia | Thursday |
| venderdi | Friday |
| sonda | Saturday |
| dumengia | Sunday |
| allegra | a revair | bun di | buna saira | buna not | bellas vacanzas | grazcha fich | bun viadi | il bogn | l'abitaziun | la bacharia | la banca | la butia | la furnaria | la garascha | la posta | l'ospidal | l'ustaria | la via | na | schi/hai | s-chüsa | lündeschdi | mardi | marcurdi | gövgia | venderdi | sonda | dumengia |
| --- | --- | --- | --- | --- | --- | --- | --- | --- | --- | --- | --- | --- | --- | --- | --- | --- | --- | --- | --- | --- | --- | --- | --- | --- | --- | --- | --- | --- |
| «grüezi», good day | goodbye | good morning | good evening | good night | nice holidays | thank you very much | have a good trip | the bath | the flat | the butchery | the bank | the shop | the bakery | the garage | the post office | the hospital | the restaurant | the road | no | yes | sorry | Monday | Tuesday | Wednesday | Thursday | Friday | Saturday | Sunday |