Clozza - Motta Naluns (-Piz Clünas)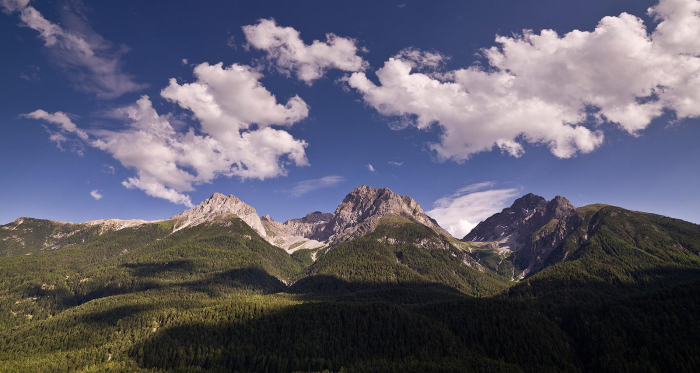 The "classic" for altitude meter collectors: To Motta Naluns it is about 900 hm on about 5 km, to Piz Clünas a total of 1,500 hm on 10 km. Wonderful views included.
---
Start
Scuol, Clozza Fountain
Destination
Motta Naluns mountain station
Coordinates
46.800426, 10.301908
Description
We start at the Clozza fountain near Ospidal Scuol. Here you can enjoy the best sports drink always fresh. For a few meters we follow the road uphill, in the bend we go straight along the river towards Clozzua spring and come to the hiking trail towards Flöna – Motta Naluns. Through the forest through the impressive Clozza gorge it goes on a path more or less steeply to Flöna. The first 3 km and almost 500 hm are done. Along a clearing it continues uphill. During the alpine season, the cow bells accompany us here. After 600 m we turn right and follow the path towards Motta Naluns. Here the path is evenly steep. Shortly before the intermediate destination Motta Naluns it gets steep again and the steep S-curves let the pulse rise again. In Motta Naluns we can finish the tour and glide comfortably with the gondola to Scuol. Or we follow the road towards Chamanna Naluns – Piz Clünas and cope with another 1.8 km and 200 hm. Here you can already hear the first whistles of the marmots and our summit destination beckons. From the mountain restaurant Palme (only open in winter) a beautiful trail starts in the slope, which leads us to the Alp Clünas. After a few meters on the road we turn following the sign on the steep mountain path to Piz Clünas. On the last 1.5 km we complete 350 hm, first in zigzag through alpine meadows and past avalanche constructions, at the end steep in the falline through rather slippery terrain. On the summit we are rewarded with a magnificent view of the Lower Engadine Dolomites on the opposite side of the valley as well as towards Piz Buin and the Silvretta Group in a northwesterly direction.
For the descent, the route in a northerly direction to Lai Minschun is recommended back to Alp Clünas and on the ascent back to the mountain station Motta Naluns.
Geheimtipp


ascent with the support of the mountain railways (i.e. only do 2nd part of the tour)


View from Piz Clünas


(foot) bath in the Lai Minschun


Very vegetation


Murmalts on the way


Stop at chamonna Naluns or the mountain restaurant Motta Naluns


trotinet ride from Motta Naluns mountain station to Scuol


Sicherheitshinweis
The tour was evaluated in favorable weather conditions, the current weather conditions and weather forecasts must be observed before the start of the tour.
Emergency call
144 Emergency Call, First Aid
1414 Mountain Rescue REGA
112 International Emergency Call