Recharge your batteries in natural mineral water.
Engadine fountain bath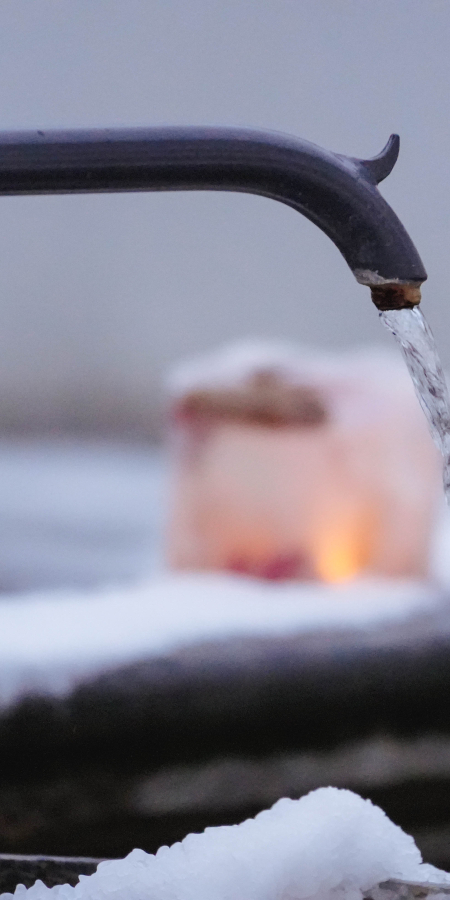 Our village wells have always had a central importance for life in the Engadine villages - be it as a water supplier, cattle watering place or meeting point. In addition to clear spring water, many of these wells also carry one of the region's various natural mineral waters. So it's high time to get to know them from a different perspective during a well bath.
Also for those who prefer to shower hot.
Winter bathing fun
Wintertime is bath time - but not only in the bathtub at home, but also in the mineral water fountain in the historic village of Scuol Sot. With a mulled wine in one hand and a glass of natural mineral water in the other, it's wonderful to relax with like-minded people. For all those who like it a little warmer than 4°C, on certain days we heat part of the fountain to a pleasant bathing temperature. Of course, this is done with naturally renewable resources. Click here for the dates.
For the sake of health.
Positive effect of the alternating bath
The change in temperature leads to a widening and narrowing of our blood vessels: when it is warm, they widen. The cold stimulus causes them to contract again abruptly. As a result, a large amount of blood is pumped towards the heart, blood pressure rises and circulation is stimulated. Alternating baths also train our vascular muscles and have a positive effect on the immune system.
Caution: Alternating baths are not recommended for people with heart problems or high blood pressure.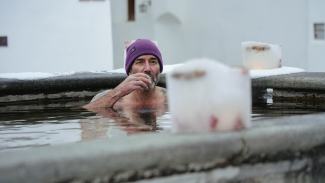 Step by step.
The bath ritual
Put on your swimming trunks, pack your towel and bathrobe and head to the Plaz village fountain.
Greet everyone with a friendly "Allegra" or "buna saira" and contribute to the good mood.
Take a long shower in the Chasa Ajüz (1st floor) and deposit your towel in the heated yurt.
Grab a drinking cup and fill it with Funtana da Sotsass mineral water.
There's still room in the other hand for a mug of mulled wine - and then off into the fountain!
Start with a relaxing dip in the warm water pool and get to know your fellow bathers.
The brave ones complete the alternating bath with a jump into the cold water and take part in our competition: Share a picture of you in the ice bath and tag @engadinscuolzernez.
Repeat the bathing ritual as you wish.
After a warm shower, round off the evening with a hot soup and homemade bread at Café Ajüz.